Gestern habe ich wieder Quark gemacht! Hier in den Staaten is es fast unmöglich im Supermarkt quark zu finden. Zum Glück ist es aber super-einfach Quark selber zu kultivieren. Einfach Milch warm machen (30 Grad Celsius), Starterkultur hineinmischen und dann nach 24 Stunden mit einem Käsetuch die Molke abtropfen lassen. Fertig. Man kann ein paar Löffel quark einfach beim nächsten Mal als Starterkultur in die warme Milch einrühren.
Yesterday, I made quark! Around here we cannot buy this delicious cultured milk product at the store, but it's super-easy to make. Just warm the milk to 86 Deg F. add the starter culture and after 24 hours separate the whey out using a cheesecloth. Done. You can re-use a couple of scoops of the quark as the starter for the next batch.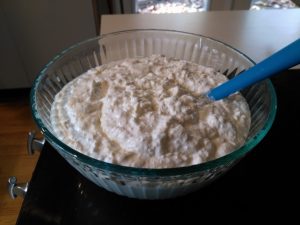 Aus vier Liter Milch (1 gallone) bekam ich 1650 Gramm Quark.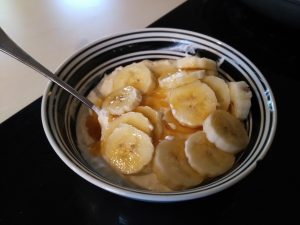 Mmmm … Bananenquark mit Honig