For us, most of 2018 was about staying on track, being patient and putting in the effort required to reach our goals. The year also seemed to pass rather quickly, probably due to the persistent effort we had to invest into our activities. The weather was one of the noteworthy features for North Carolina, with 2018 being recorded as the wettest year (at RDU airport) since 1944, featuring two tropical systems impacting the state and an early snowstorm in December.
As a parent, it's always rewarding to see your children do well, unfolding their wings and overcoming obstacles. So it was a wonderful occasion for us to celebrate Jacob's High School graduation last June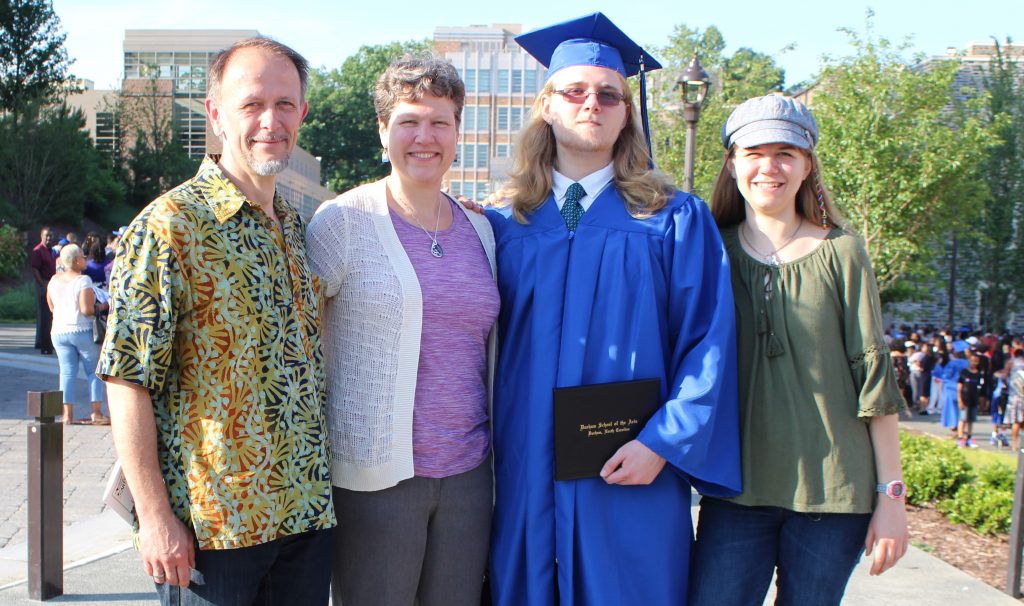 Durham School of the Arts celebrated the class of 2018 at Cameron Indoor Stadium on Duke University campus. After a nice relaxing summer break, Jacob started taking classes at Durham Technical Community College with the goal to earn an Associates Degree in Science by 2020.
Julia went back to school last fall and completed her first semester at UNC Chapel Hill. Her major is Global Studies and so she took classes in Global Studies, African studies, French and World History. Since she has to live on UNC campus, getting settled into her dorm and adjusting to campus life was a big focus for her, besides succeeding academically. Her goal is to earn a Bachelor of Arts by 2021.
Laura's organization, the LifeSkills Foundation, had a good year and continues to grow. They had several successful fundraising events, and the biggest – the Race Across Durham – kept Laura very busy for a good portion of last fall. Laura works with Bull City Running on coordinating the trail race for LifeSkills. Despite the wet weather, muddy trails and some last-minute changes due to flooded trails, the race went well and all runners made it safely to the finish. I helped out during the race, too, running miscellaneous errands, like getting coffee in the morning, transporting runner's bags to the finish and picking up trash.
The wet weather last year had the great benefit of being very fungus-friendly and so 2018 was great for collecting mushrooms! Laura went for many a long walk foraging for mushrooms in the woods on and around our property. She found dozens of edible mushrooms, and some very tasty ones, like oyster mushrooms, hen of the woods, chicken of the woods, chanterelles, black trumpets, shaggy mane inky heads, puffballs, and many more. She now even has a nice microscope to look at spores, which helps identifying some of the more tricky mushrooms.
In 2018 we took it "up a notch" with riding our horses. In March, Laura and Julia rode in the Sandhills "Spring Fling" 25 mile race in Cheraw, SC (results). In June we went on a long weekend camping trip with the horses (and Patou) to Leatherwood Mountain in NC. In August, Laura and I rode the "Iron Mountain Jubilee" 30 mile race in Ivanhoe, Virginia (results).
The 10th (and probably last) Doughman was great fun again. This year our team was, again, Team Dain's Place 11foot8 with Gordon Keeler, Bruce Pitner, Joe McClernon and you's truly. Our team did really well, again. We raised over $1000 for the Durham Bike Coop and finished in 4th place (results).
Personally, I thought it was absolutely awesome that the mayor of Durham, Steve Schewel, ate and ran in the Doughman race – wearing a Durham flag as a cape!
Steve is really a great mayor. I met him several times last year and I was impressed by how sharp and knowledgeable he is, but also by his warm personality.
My work environment at Duke changed quite a bit last year, as with Jane Costello retiring in June and Bill Copeland moving to the University of Vermont, the old Developmental Epidemiology Program is pretty much disbanded. However, since I am now really primarily supported by the Duke Center for Autism and Brain Development, the impact on my day-to-day work is fairly limited. So far, the department has let me keep my Brightleaf office, which is good for my 11foot8 side project.
Speaking of 11foot8, at the end of September, YouTube decided to disable monetization on my channel after 10 years. My channel has over 50,000 subscribers and my videos have accumulated over 22 million views, but some bot at YT decided it was OK to just disable monetization without warning and without any real recourse. When I posted about that on Facebook, the fans started a Twitter storm at the YouTube Twitter account in protest, and after a couple of days later monetization had been restored. However, this experience showed us just how unreliable YouTube is as a business partner, so we decided to begin crowd funding our project at Patreon. Check it out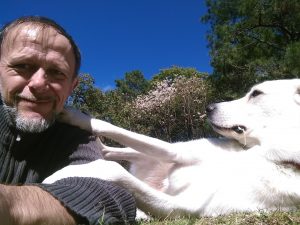 Patou was perhaps one of the most significant changes to our daily life last year. No other animal addition has had such an impact on our lives since we got horses. Raising a puppy is major commitment of time and energy. Patou is now 14 month old and mostly full-grown. She'll probably fill in some more and add some weight, but I don't think she'll grow much more (which is fine). At this point she is 29 inches (74 cm) at the shoulder and weighs about 75 lb (34 kg), which makes her pretty small for her breed. But that's really OK. She is a good size for our purposes :)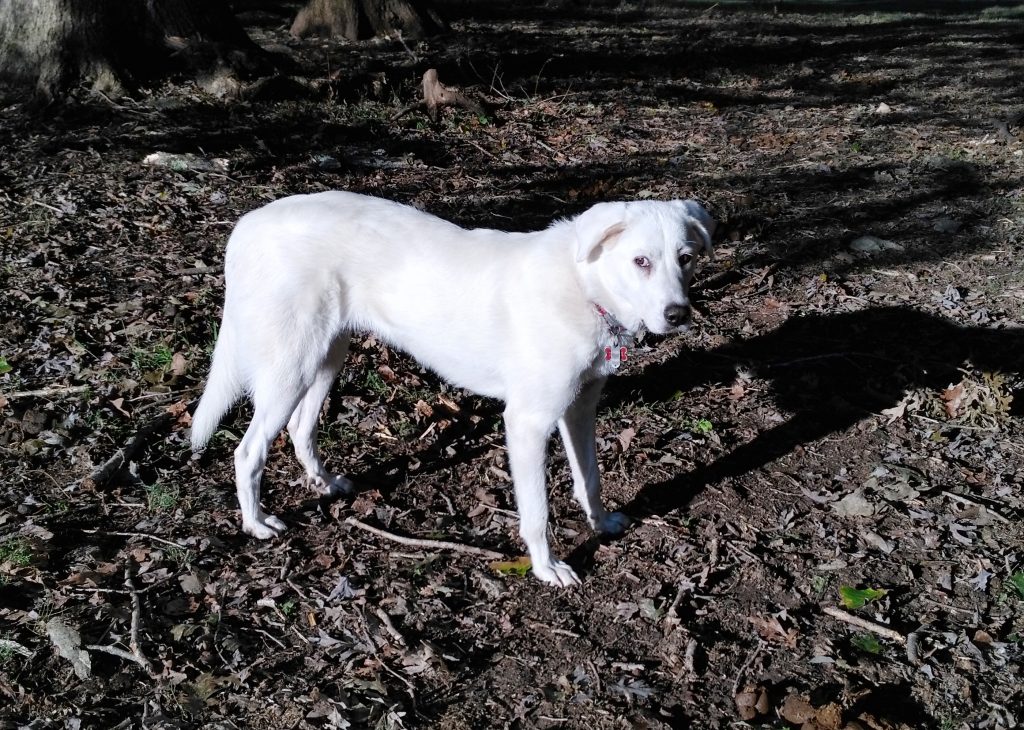 She has developed into a fine, young dog. She is full of energy, very alert and a gentle soul. She is quite submissive around other dogs and just wants to play, play, play! Due to her breeding she does bark a lot, and she also does have a strong desire to roam and explore the neighborhood when she s off the leash. We're working on that.
Finally, for myself, this year was characterized by efforts to re-invent and re-center myself. I hardly take any alcohol any more; I think I had one-and-a-half beers in December! However, I did develop a pretty serious tea habit. In June, I started attending meditation sessions at a local Buddhist temple. Studying the Buddhist teachings and daily meditation has been a key to allowing old, unhealthy habits to subside and fall away, and to cultivating new, skillful habits that further my well being and the well being of those around me. Having removed alcohol from my life, I sleep better, I am more engaged with my family, more patient with people (incl myself) and I feel much healthier.
Last October, I attended a 5-day meditation retreat at the Bhavana Society in West Virginia. Bhavana is a small Theravada Buddhist Monastery and retreat center, lead by Bhante Gunaratana, a 91-year-old monk from Sri Lanka. Meditators from all around the country travel there to experience the peace and quiet of a silent, structured meditation retreat. I found it to be quite interesting to experience such profound quiet and peace that a simple meal or a walk in the garden becomes an intense, transformative experience.
After returning home from the retreat, I realized that I was no longer interested in eating meat at all. The idea of ingesting the flesh of another creature had become quite unappealing, and that was a surprising discovery for me. I had been happily munching on hamburgers and shrimp and chicken the week before, and I still do like the smell (and presumably the taste) of meat. But I discovered a deep mental aversion to the idea, and I feel like I want to respect that. There are really no good reasons for eating meat, except that it's pleasurable and convenient. Being mindful of our habits and the underlying conditioning of our actions is an important Buddhist teaching, and I am doing my best to act skillfully. That means I observe my actions and their consequences very carefully and try my best to act in ways that increase mine and other's well being.
So that's 2018 in a nutshell. Best wishes for 2019. May you be well, happy and peaceful.