Overall, 2012 was a pretty good year, although it also presented some real challenges to us. The most significant development of 2012 is unfolding right now: Dec. 31 was Laura's last day at her job of 8 years as Executive Director of One World Market in Durham. Jan 2 she will start her new job, working as an

independent non-profit consultant. She will work for a UNC professor who has a grant to start a non-profit research-data repository organization called Dryad. It's quite a change of pace and cultural adjustment fo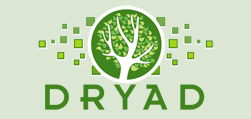 r her to go from a small, fair-trade retail store to working in academia. But despite the adjustment and the financial risk, this is also a great opportunity and she just has to take the plunge and see how this works out.
Our trip to Germany (and Austria, Liechtenstein and France) was the most exciting and probably the most memorable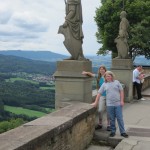 event this year. The last time we went was in 2005, so it was definitely time to go back to the old country. Besides visiting family, we also did some touristy stuff this time around. The kids are at a great age to explore cathedrals, castles and historic places. And we also explored German horse culture on our visit, visiting Marbach (the 400-year-old state stable for the Kings of Württemberg and now the state of Baden Württemberg) and Schwaiganger (Bavarian State Stable with a 1000-year-old horse tradition). We also visited a distant relative who makes a living with his team of draft horses.
Growing up in Germany, I had very little to do with horses. So it was really fascinating for me to discover an entire dimension of German culture I did not know much about. My mom's dad would be thrilled to see this, if he were still alive. He was a real Prussian horse-nut and he was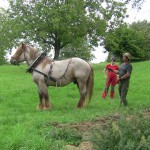 thrilled that I married a woman who is a horse nut. Well, here I am 18 years later, riding Tennessee Walkers and learning all about Black Forest Cold Blood horses – and a bit of a horse nut myself after all.
Speaking of horses … in April we took Wally and Cleo on their first vacation with us in Southern Pines, NC. Our first real road trip with the horses  went well, although Cleo was a bit of a handful because she went into heat as soon as she got off the trailer, and she could smell all the stallions in the neighborhood.
All year we did t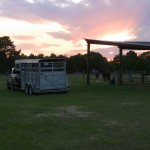 ake the horses on frequent day trips all around the area. There are quite a few nice places to go horseback riding. But in the all we got memberships at Hill Forest – a research forest for NC State University that is only a 15-Min drive from our place. For $100 membership you get to explore miles and miles of well-maintained trails there, and there is no other traffic. Since the summer we've been out there numerous times and really enjoyed it.
One of the more expensive problems this year also had to do with the horses. On the 4th of July, Cleo cut herself during a ride at Hill Forest and we had to take her to an emergency vet visit to get stitched up. That was bad enough, but it could have been worse. Two weeks later we went back to the vet to have her stitches removed. On the way back, the truck's transmission died and we were stranded with the horses on the side of the highway. Luckily a friend who has a truck with a goose-neck hitch was able to bail us out. The truck cost over $2000 to fix, though.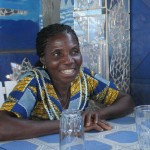 The worst thing that happened this year that affected us directly was the news that our good friend Lucy in Togo had a stroke and was in very rough shape for a long time. She was severely paralyzed and her family took her to the Mission Hospital in Adeta. Laura managed to get in touch with the American doctors there and helped the doctors and the family make decisions about Lucy's care. Lucy is now with family in Kpalime and on a slow path to recovery.
The best thing this year, as every year, is watching our kids grow and explore and develop more and more of their own perspectives on life. Jacob and Julia are both doing well in school, academically as well as socially. Both continue to vigorously pursue their music and their respective instruments. Jacob's bass teacher lately has had him explore a Jazz piece (Miles Davis' So What?) and Julia is now 4th viola in her high school orchestra and was invited to join the chamber orchestra as well. Also, last week Laura's brother John was here. He plays several string instruments and it was nice to see the kids and him talk shop and bond over their music.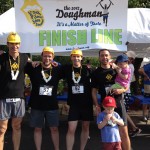 What else?
The 2012 Doughman was fun. My team raised bunch of money and we came in 8th place out of 82 teams.
In 2012 I cooked 19 batches of biodiesel. That means I turned 950 gallons (3596 liters) of waste veggie oil (used fryer oil) into fuel for our three vehicles. That includes the truck we use to tow our horse trailer. That's a reduction of 20.000 lb (10 tons) of carbon emissions. Our trip to Germany (4 flights from RDU via JFK to FRA) produced around 10.000 pounds (5 tons) of carbon emissions. FWIW.
Last fall, Jacob and I got introduced to firearms by some of my friends. We got to shoot some shotguns, a .45 semiautomatic pistol and a couple of .22 long- and hand guns.
And finally, just a week ago, we added emus to our menagerie, which includes now a bunny, 3 cats, a poodle, 2 horses and the 3 emus. Since we can't tell them apart, and we don't know what sex they are, we just call them all Bob.
So that's it for 2012. We're looking forward to more fun in 2013, especially taking Wally and Cleo to some interesting places. And playing with the Bobs.
Happy 2013 to all of you. Stay healthy and have fun!
Insgesamt war 2012 ein ziemlich gutes Jahr, obwohl es auch einige echte Herausforderungen für uns präsentierte. Die wichtigste Entwicklung des Jahres 2012 entfaltet sich dieser Tage: Dez. 31 war Laura's letzter Tag nach 8 Jahren als Geschäftsführerin des One World Market in Durham. Am 2. Januar beginnt sie ihren neuen Job als Berater für gemeinnützige Organisationen. Sie wird für einen UNC Professor arbeiten, der eine Organisation namens Dryad gründen will. diese Organisation wird Forschungsdaten archivieren und öffentlich zugänglich machen. Es ist durchaus eine Umstellung und kulturelle Anpassung für sie vom kleinen, Fair-Trade Einzelhandel in die Akademie ud Forschungswelt umzusiedeln. Doch trotz der Umstellung und des finanziellen Risikos, das ist auch eine große Chance, und der Sprung in einen neen Bereich wird ihr sicher guttun.
Unsere Reise nach Deutschland (und Österreich, Liechtenstein und Frankreich) war ein tolles Erlebnis – vor allem natürlich für die Kinder.  Neben dem Familienbesuch standen auch einige Touristenattraktionen auf dem Programm. Die Kinder sind in rictigen Alter, Kathedralen, Burgen und historische Orte zu erkunden. Und wir hatten auch Gelegenheit die deutsche Pferdekultur zu erleben. Wir besuchtendas Baden-Württembergische Haupt und Landesgestüt Marbach und das Bayrische Haupt und Landesgestüt Schwaiganger. Wir besuchten auch einen entfernten Verwandten, der seinen Lebensunterhalt mit Holzrücken mit seinen zwei Kaltblütern verdient.
Bis vor ein paar Jahren hatte ich sehr wenig mit Pferden zu tun. So war es wirklich faszinierend für mich eine ganz neue Dimension der deutschen Kultur zu entdecken. Meine Großvater mütterlicherseits wäre begeistert, das zu sehen sein, wenn er noch am Leben wäre. Er war ein echter preußischer Pferdenarr und er war  begeistert, dass ich eine Frau heiratete, die ein Pferdnarr ist. 18 Jahre später reite ich Tennessee Walker Pferde und lese ein Buch über Schwarzwälder Kaltblüter – und bin scheinbar auch ein bisschen ein Pferdenarr.
Apropos Pferde … im April nahmen wir Wally und Cleo auf ihre erste Reise mit uns nach Southern Pines. Unser erster echter Urlaub mit den Pferden ging gut, obwohl Cleo ein bisschen verrückt spielte, weil sie gleich nach unserer Ankunft "rossig" wurde und sie alle Hengste in der Nachbarschaft riechen konnte.
Das ganze Jahr über gingen wir mit den Pferden auf Tagesausflüge. Es gibt einige Parks in der Gegend wo man schön reiten kann. Aber seit dem Sommer sind wir Mitglieder bei Hill Forest – einem Forschungswald der NC State University, der nur 15 Minuten Fahrtzeit entfernt ist. Für US$ 100 Beitrag bekommt man Zutritt zu vielen Meilen gut gepflgter Waldwege die fast ausschließlich zum Reiten benutzt werden.
Eines der teureren Probleme in diesem Jahr hatte auch mit den Pferden zu tun. Am 4. Juli, verletzte Cleo sich während einem Ausflug in Hill Forest und wir mussten sie zum Tierarzt bringen der die Wunde nähen musste Das war schon schlimm genug, aber es kam noch schlimmer. Zwei Wochen später gingen wir wieder zum Tierarzt um die Fäden ziehen zu lasen. Auf dem Weg zurück, gab das Getriebe, unseres Pickups den Geist auf und wir waren mit den Pferden and der Seite der Straße gestrandet. Zum Glück konnte uns eine Bekannte mit ihrem Pickup aus der Patsche helfen. Der Reperatur kostete allerdings über $ 2000.
Das Schlimmste, was uns in diesem Jahr passierte, war die Nachricht, dass unsere gute Freundin Lucy in Togo einen Schlaganfall hatte. Lange sah es nicht gut für sie aus. Sie wurde schwer gelähmt und ihre Familie brachte sie zu einem Missions Hospital in Adeta. Laura nahm Kontakt auf mit den amerikanischen Ärzten in Hospital und half den Ärzten und der Familie mit Entscheidungen über Lucys Betreuung. Lucy ist jetzt bei Ihrer Familie in Kpalime und langsam aber sicher auf dem Weg der Besserung.
Das Beste, in diesem Jahr, wie in jedem Jahr, war zu sehen wie unsere Kinder wachsen und gedeihen und sich immer mehr zu unabhängigen Persönlichkeiten entwickeln mit ihren eigenen Lebensperspektiven. Jacob und Julia kommen beide gut in der Schule mit, akademisch sowie auch sozial. Beide verfolgen weiterhin mit Eifer ihre Musik und ihre jeweiligen Instrumente. Jakobs Bass Lehrer gab ihm ein Jazz Stück auf (Miles Davis 'So What?) Und Julia ist nun die 4. Viola in ihrer High School Orchester und wurde in das Kammerorchester eingeladen. Letzte Woche war Lauras Bruder John hier. Er spielt mehrere Streichinstrumente und es war schön, ihn und die Kinder über ihre Musik fachsimpeln zu sehen.
Was sonst noch?
Die 2012 Doughman hat Spaß gemacht. Mein Team hat eine Menge Geld gesammelt und wir waren 8. aus 82 Teams.
2012 habe ich 19 mal Biodiesel gekocht. Das heißt, ich habe 950 Gallonen (3596 Liter) Friteusen Öl in Treibstoff für unsere drei Fahrzeugen umgewandelt. Einschließlich useres Pickups der den Pferdeanhänger in der Gegen herumschleppt. Das sind 10 Tonnen Kohlendioxid-Emissionen weniger. Unsere Reise nach Deutschland (4 Flüge von RDU über JFK nach FRA) produzierte rund 5 Tonnen Kohlendioxid-Emissionen.
Im vergangenen Herbst, durften Jacob und ich zum ersten Mal mit echten Schusswaffen umgehen. Wir trafen uns mit ein paar Freunden die richige Waffennaren sind und durften mit ein paar paar Schrotflinten, einer Kaliber .45 halbautomatische Pistole und ein paar Kaliber .22 Gewehren und Pistolen schießen.
Und schließlich vor einer Woche, kamen Emus zu unserer Menagerie. wir haben jetzt 3 Katzen, einen Pudel, 2 Pferde und die 3 Emus. Da wir sie nicht unterscheiden können, und wir nicht wissen welchen Geschlechts sie sind, nennen wir sie alle Bob.
Das ist es also für 2012. Wir freuen uns auf mehr Spaß in 2013, insbesondere mit Wally und Cleo interessante Orte zu beuchen. Und mit den  Bobs zu spielen.
Wir wünschen euch ein frohes 2013. Bleibt gesund und habt in bisschen Spaß!