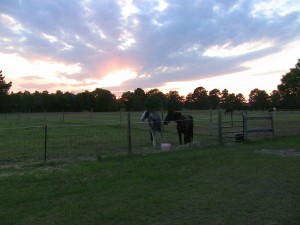 During spring break we took Wally and Cleo on their first over night trip with us. We loaded  them on their trailer and hauled them 100 miles South, to a horse farm near Southern Pines. The weather was great – dry and sunny and in the 60s – so not too hot for some vigorous cantering on the forest trails in the Sandhills.
The only problem we encountered was our mare going into heat as soon as she got off the trailer. The area around Southern Pines is North Carolina's horse country and there are many breeding stables around … with many breeding stallions. Cleo immediately picked up that scent and went a bit crazy. One morning, a nearby forest fire covered the area in smoke and during that time Cleo was fine because she could not smell anything. As soon as the smoke lifted, she got all excited again.
Wally, our gelding, was fine. He seemed to enjoy the exercise and the change in scenery. I know we definitely did. In the pasture next to our guys were three Tennessee Walker geldings and Cleo and Wally had some friendly "social" contact as well. And we got to talk shop with some other TWH owners – which was interesting, since most of our friends with horses ride quarter horses or other breeds.
Our rig worked our pretty well, too. I had to buy new tires for the trailer before the trip, though. I had my tire guys check them, because two of the tires were real old and showed signs of dry rot. Turns out the tires on the trailer were just regular 4-ply car tires with nowhere near the correct weight rating. So I bought nice D-rated trailer tires. You can't be careful enough with a horse trailer. A blowout on the highway can be a real disaster.
I also learned to avoid towns as much as possible because stop-and-go with a 10,000 pound rig kills the fuel mileage. On the way back we stayed on the highways and used less fuel even though that route was 20 miles longer. I estimate that we got about 10 miles/Gallon with the loaded trailer. On homebrew biodiesel, of course.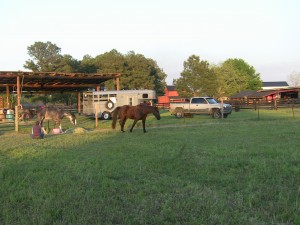 Nochmal – auf DEUTSCH:
In den Frühlingsferien sind wir zum ersten Mal mit den Pferden in den Urlaub gefahren. Wir transportierten die beiden ca. 160 KM südlich in eine Gegend die hier in North Carolina als ein richtiges  Pferdemekka bekannt ist. Unter anderem wird dort jedes Jahr das berühmte Stoneybrook Steeplechase Pferderennen ausgetragen, das um die 20.000 Zuschauer anlockt. In der Gegend gibt as auch einige Gestüte die hochwertige Turnierpferde züchten and viele, viele grosse und kleine Reitställe. Einige dieser Reitställe bieten ein Bed and Breakfast mit Pferden an, wo man entweder seine eigenen Pferde mitbringt, oder manchmal auch Pferde mieten kann. Zudem gibt es inder Gegend auch einige Anlagen wo man auf hunderten und sogar bis über tausend Hektar Land ungestört reiten kann. Der Hof wo wir drei Tage lang Urlaub machten hatte direkten Zugang zu einem +1000 HA Wildreservat mit vielen Meilen sandiger Waldwege.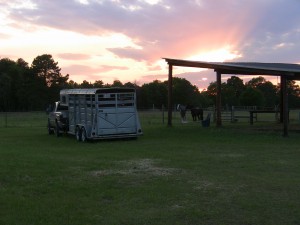 Das einzige Problem dass wir hatten war dass unsere Stute gleich nach unserer Ankunft überraschenderweise wieder läufig wurde. Vermutlich lag es daran dass sie Witterung all der Deckhengste in der Umgebung bekam. Das arme Tier war so aufgeregt wie wir sie noch nie gesehen haben, und wir hatten teilweise unsere Hände ganz schön voll mit ihr.
Wally – unser Wallach – war hingegen so entspannt wie selten. Viel Aufmerksamkeit und viel Training und viel frisches, grünes Gras taten beiden Pferden richtig gut. Unsere beiden kamen auch sehr gut mit ihren Nachbarn aus – drei Tennessee Walking Horse Wallache waren auf der Weide nebenan. Für uns war die gemeinschaftliche Komponente auch interessant, da wir selten Gelegenheit haben mit anderen TWH Besitzern fachzusimpeln. Die meisten unserer Pferdenarren-bekannten haben Quarterhorse Pferde oder andere Arten.
Unser Pferdetransporter hat sich auch gut bewährt. Ich musste noch kurz vor der Reise neue Reifen für den Anhänger kaufen, da die alten Reifen, wie sich herausstellte, nur ganz normale Autoreifen waren, und damit gar nicht für derartige Lasten geeignet waren. Der Dieselverbrauch hielt sich auch in akzeptablen Grenzen – etwa 23L/100KM bei etwa 4,5 Tonnen beladen. Und selbstverständlich war das nur selbstgemachter Biodiesel.