… took a lot of energy. This was not a bad year for me, but it did wear me out a bit. The first half was dominated by our trip to Togo and Ghana. It took a lot of preparation to get ready. The trip itself was great, but quite exhausting. Work turned a bit hellish last summer, as we were tasked with replacing the entire server infrastructure at our lab and replacing our Netware systems with Microsoft and Linux. Finally, the holiday shopping season at Laura's store was intense and tiring. Laura worked long hours and I tried to hold down the fort at home. All in all, though, it was not a bad year. We're all healthy, we both still have jobs, the kids are doing well in school, and we got to do some pretty cool stuff.
The coolest thing we got to do last year was our trip to Togo and Ghana – back to the village in Togo where Laura and I met all these years ago. It was a lot of fun to show Jacob and Julia the place they had heard about so much, and about which they had so very much no concept. And our
friends in the village were happy to see us, and our children, and to renew the connection. We spent 10 days around Easter in the village, and so there were already many celebrations planned. Easter is a time when many folks return from the city where they live and work to their ancestral villages. So many major celebrations, like weddings and memorials, take place during that time.  Our arrival called for yet more celebration and drinking and speeches and feasts and libations for the ancestors. It was fun, it was intense, and it was really interesting.
Perhaps the most interesting thing to me was how relatively easy it really is now to travel to West Africa from the U.S. Ghana has really pretty good infrastructure and the 11 hr flight from JFK to Kotoka is long, but not brutal, like the flight to JoBurg (SA). I think that if you're in the US, and you want to visit Africa, go to Ghana – no question. Ghana has pretty good infrastructure, low crime rates, decent resources and is politically and economically stable. Of course there are many many other absolutely worthwhile destinations around this vast, warm and rich continent. But from the US, Ghana is the closest and safest.
Talking about travel – I'd like to point out that in 2009 I made 750 Gal (3000 liters) of fuel from used fryer oil. That amount of biodiesel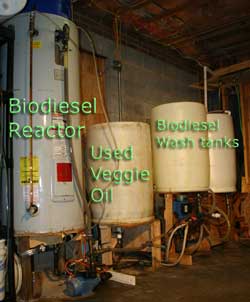 replaced roughly 17,000 pounds of fossil CO2 regular diesel fuel would have produced. So our relatively carbon-neutral modes of every-day transportation somewhat balance out the roughly 16,000 pound CO2 footprint for our unusually distant travel destination. Most of this (15,000 #) is the plane trip. We drove our borrowed BMW less than 1,000 miles in country and we only had A/C a couple of days at the beginning and the end of the trip.
Work was a bit of a drag last summer. Long hours, lots of weekend work, several nerve-wracking migrations. But all in all it went well. We had to rip out our old Netware servers and replace them with Windows and Linux machines. The OS switch was not the real issue, though. The real challenge was the change away from eDirectory to Microsoft's Active Directory, and the fact that there were simply no resources allocated to train the people who had to make the switch. We were basically supposed to implement A/D security by trial and error (and Google).
An interesting snag we ran into happened during our mail server migration from Netware-based Netmail to Linux-based Postfix. The folks who sell Netmail make a big deal of how the product is all "standards-based" and it is, but all messages sent ot more than 5 recipients on the system are not stored in the standard(s-based) mbox format, but in a separate, centralized "Single Copy Message Store (SCMS)" which is very efficient, but makes the migration much, much more complicated.
Anyway – after a summer of trial and error and intense use of Google, we now run several VMWare-based virtual Linux (Ubuntu) and WIndows machines on a couple of Ubuntu host systems. And we're now using Duke's Enterprise A/D – for better or for worse.
But enough with the geek talk.
Sports: Jacob and I diligently (more or less) pursued or martial arts training in Shito-Ryu Karatedo and we're working on getting ready for our next belt test. I built Julia a pair of stilts and she can now walk the driveway up and down on her stilts. Jacob has shown quite an interest in archery, so he got an archery set for Christmas. Let's see if he sticks with it.
As I have discussed previously, I discovered barefoot running last summer, and I alternate that with my martial arts training. I guess at my age, I just need something to keep me on my toes (other than my kids). As soon as I took off my shoes, I got it. It's just so much more fun to be able to feel the ground you're treading on. Of course you're also much more vulnerable to that ground, and so you have to be quite alert while you're running and avoid any sharp or otherwise harmful objects. And you have to run gently and tread lightly, so as to avoid injury. Yet you can learn to run very swiftly and efficiently that way. Right now, I don't run much because it's too friggin' cold (I know – I'm a whimp). But as soon as ithe temperatures are above 40 F (5C) again, I'm out running again. I have to stay in shape because I want to run the Doughman in May barefoot – especially since I could not get my act together for the 2009 edition. I have a team together for next year, and we will be ready.
What else were we up to?
11foot8: in 2008, I started posting videos on YouTube of the trucks that crash into the train trestle outside my office at Brightleaf Square. Last year that little project really took off. I was interviewed by a local TV news reporter, and I licensed several clips to TV shows. I set up a website – 11foot8.com – and in December I had a bunch of T-shirts made that I will begin selling. I now operate 3 cameras along Gregson St, and the cops started calling me whenever they think my cameras might have caught an event of interest to them.
Pets: in 2008, we took in a neglected neighborhood cat and then found a home for him because he had feline leukemia, and the vet recommended he life as an indoor cat. This year the situation was reversed. A customer of Laura's store had taken in a neighbor's cat when the neighbor moved out and could not get the cat to come out from inside a wall behind the bathtub, where she was hiding. Yes, the cat hid inside the wall. So then the good catmaritan had to move as well, and asked around for a new, permanent home for the cat. We took the cat in and she hid under the futon in the guest bedroom for the first month. She was so skittish that we named her "koklo" (chicken in Ewe). Six months later, she is now well adjusted and lives with our other cats Deha and Sodabe in mostly in our basement/garage and spends many hours every day roaming the woods around our house.
We also now have a rodent again (after our chipmunk died in 2008) – clover the gerbil (or kangaroo-rat) moved in with Jacob last summer, and has since pretty much chewed up anything she can reach with her teeth. She's very cute, although she always reminds me of the poor gerbils we used to hunt in the Sahara at night with the truck so we could feed our snakes.
Home improvement: Last year Laura and I tackled our largest home improvement project yet, in the new house. We renovated the bathroom for the master bedroom and put in bamboo flooring, and new (water-saving) toilet, a new vanity, sink, and lights. And we painted the walls new. Looks great. I think we'll start replacing more carpet with bamboo next year. Oh – and we bought a new (energy star) fridge. It uses only 650 KWH per year.
Health: No one in our little family was seriously ill last year, but I had the swine flu (or whatever) in October, and a nasty cold just the last few days. I wonder what's going on? I only drink good-quality, healthy beer!?
Talking about beer: This was a great beer year. Positively the coolest beer I had this year was Foothill's burbon-barrel aged Total Eclipse stout just a few weeks ago at the brewery. They only aged a few casks, so that was definitively a rare treat. That day we also had the some 2008 Sexual Chocolate Stout! What a beer! Earlier this year a friend shared a bottle of 1996 Sam Adams Triple Bock with me. What an amazing mouthful of a beer! Tonight, after the Champagne, I think I'll break out a bottle of my 2006 Samichlaus :-)