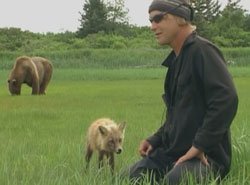 Last week I finally got to watch this strange movie "Grizzly Man" about Tim Treadwell, the ultimate bear nut. Treadwell spent 13 summers in Katmai National Park in Alaska literally among huge grizzly bears. In October 2003 Treadwell and his girlfriend Amie were killed and eaten in their camp in the park by one of the grizzly bears.
In the last five summers with the bears he took cameras along and filmed the bears, foxes and himself in the rough, beautiful Alaskan wilderness. The bears were so habituated to him that he got truly amazing footage standing just feet away from the grizzly bears. Werner Herzog, the famous German movie director, got access to the more than one hundred hours of Treadwell's footage. He decided to use this material to create a documentary, as "in this material lay dormant a story of astonishing beauty and depth." Herzog says. He added interviews with people who knew Treadwell, or who were knowledgeable about the bears in Alaska and wove all this into a fascinating tale "of human ecstasies and darkest inner turmoil."
It is easy to dismiss Treadwell as a nutcase. He was a recovering addict who went native among the bears and increasingly cast the world of the humans as an adversary. He renounced the complexities of the human life for the simplicity and perceived perfection and harmony of the wilderness. Although Treadwell's naive view of nature and the wilderness he was immersing himself in stands in stark contrast to Herzog's view of a chaotic and merciless universe, Herzog does not judge Treadwell.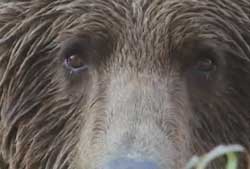 "What haunts me is that in all the faces of all the bears that Treadwell ever filmed I discover no kinship, no understanding, no mercy. I see only the overwhelming indifference of nature. To me, there is no such thing as a secret world of the bears, and this blank stare speaks only of a half-bored interest in food. But for Timothy Treadwell, this bear was a friend, a saviour."
This is the tension that carries this film. It's a compelling story of the desperate search of a human for a connection to life, nature through wilderness, through bears. Treadwell's search for this connection is deeply human. To varying degrees, we all have this desire for this connection, I know I do. Did Treadwell take this desire and turn it into a quest that gave his life meaning? Or maybe it was just another escape from reality, just another self-destructive addiction, that eventualy killed him in an overdose, of sorts?