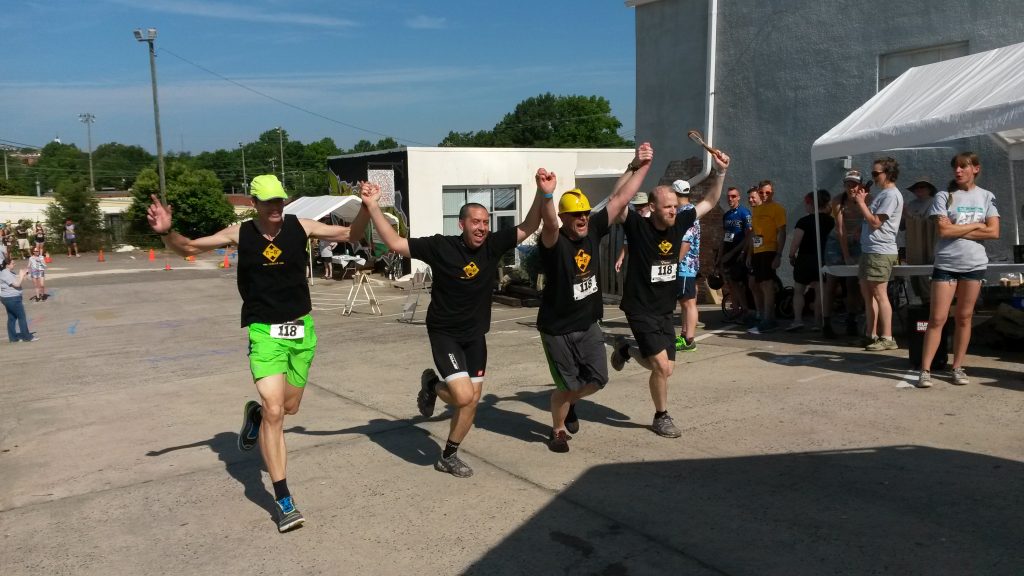 \
Saturday, Team 11foot8 knocked it out of the ballpark at the Doughman 8 here in Durham, with a 4th place in the annual quadrathlon and fundraising event.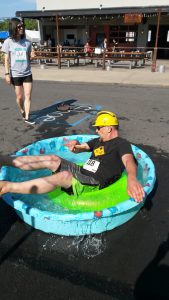 Bill Copeland, Craig Young, Gordon Keeler and yours truly were on the team. Gordon Keeler started out with spaghetti and broccoli rabe & Italian sausage from Boot and then ran 3 miles. He then handed the spoon to Craig Young, who ate spicy barbecue jack fruit arepas from Luna and then biked 10 miles, handing the spoon to Bill Copeland, who ate Motorco's Chana Masala and ran 2 miles, and then handed the spoon to me. I ate a mini chicken salad brioche from Saladelia and a mini gougeres with cream cheese, goat cheese & jalapeños (like a little croissant with stuffing) from Mad Hatter and then I ran a mile and then splashed around in a kiddy pool a bit before heading to the dessert table for the final course.
The event is a Durham fixture and a fundraiser for SEEDS, an educational community garden here in Durham. Our team raised $1,000 for SEEDS, so we got a 5-Minute head start at the race. As always, the race was a lot of fun and ridiculous mayhem. Eating technique is absolutely key; choke on that last bite and it can cost you valuable time, careful chewing won't get you the grand prize either, and if you chuck up, you're out. I try to use the cup of water to my advantage and pre-soak all the dryer components of the meal carefully, while I deal with the rest. So this time the chicken salad went down the hatch first, buns and baked thingy in the cup of water; wash the salad down with a sip of water; fish the bun out of the cup break it apart and make little balls to swallow quickly; fish out the baked thingy, give it a couple of chews and off we go.
Since my race leg was so short this year, I made sure I had warmed up carefully and took off very quickly and just pushed hard the entire mile. Spinning 8 times around in the kiddie pool was not too difficult, but I started to get dizzy and so I closed my eyes, which helped. Then off to the transition area to meet up with the team; grab a dessert and choke it down (I had a locopop … tasty, but brrrainfrrreeze!) and then the final lap with the entire team around Motorco and to the finish line!
This was our team's 5th Doughman appearance and the best placement yet for Team 11foot8!