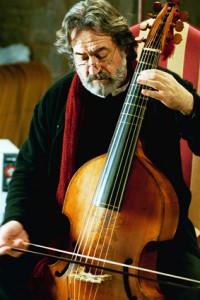 This afternoon we went to see the famous viol player Jordi Savall play his 300-year-old, 7-string bass viol at Durham's Baldwin Auditorium.
Savall is the world's most accomplished viol player of our age. Before him, these instruments and their music had been all but forgotten. Since 1965, when Savall discovered the viola da gamba, he has been at he center of the revival of the viol family of instruments.
These instruments were popular in the Renaissance and Baroque eras and they are all played upright, like a cello or a bass. They are quite different from the more popular violin family of instruments: they are fretted with movable frets and they have 6 or 7 strings; their backs are flat, not curved and their shoulders sloped, not square and they have c-holes, not f-holes like the violin.
Most
importantly, the viol is usually tuned like a Baroque lute. However, during the English and Celtic second half of the concert, Savall actually re-tuned his instrument to the lyra-viol tuning and to the bagpipe tuning appropriate to that style of music.
See below a video of Savall playing the bass viol (solo and with his ensemble)and discussing music and musicianship (in French).
Program for the Jordi Savall concert on Feb. 1, 2015 at Baldwin Auditorium
Monsieur de Sainte-Colombe, le fils: Prélude en mi – Chaconne
Marin Marais: Marche Persane; Sarabande à l'Espagnole; L'Ameriquaine; Musette & Tambourin
Monsieur de Sainte-Colombe, le fils: Fantaisie en Rondeau
Monsieur de Sainte-Colombe, le père: Les Pleurs
J. S. Bach & improvisations: Bourrée II
M. Marais: Muzettes I – II (in G)
Monsieur de Machy: Prélude 
M. Marais: Les Voix Humaines, Muzettes I-II, La Sautillante 
Tobias Hume: A Souldier's March; Captaine Hume's Pavin; A Souldiers Galliard; Loves Farewell; Harke, Harke; Goode Againe; A Souldiers Resolution
Anonymous: The Hills of Ireland
Irish Traditional: The Cup of Tea; The Rocky Road to Dublin; The Kid on the Mountain Morrison's Jig
Dan R. MacDonald: Abergeldie Castle Strathspey
Scottish Traditional: Regents Rant; The Sword Dance; Lord Moira; Lord Moira's Hornpipe