(DEUTSCH)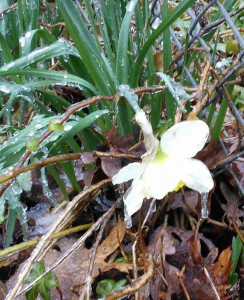 And yet another ice storm in March! Yesterday morning everything was coated in ice, yet again, even the poor little daffodils. After it had rained all Monday, temperatures dipped just below freezing Tuesday morning, while it was still raining. It was not as bad as the ice storm on March 4th, but schools closed, yet again. This time there was not too much tree damage and no power outage. It was just annoying.
But this was our second ice storm in March! And after several +70 degree weekends!! The pear trees and the daffodils are blooming. Spring seems to spring, and then it freezes. It's pretty silly.  Oh well … check out th pictures I took yesterday …
DEUTSCH:
Gestern hatten wir schon zum zweiten mal in diesem März Eisregen. Am 4. März hatten wir fast einen Centimeter Eis und der Strom war den ganzen Tag aus. Manche hatten sogar mehrere Tage keinen Strom. Eine riesige Eiche fiel auf ein Haus in der Nachbarschaft und vor allem die Nadelbäume wurden ganz schon in Mitleidenschaft gezogen. Ich habe schon mehrere Stunden mit Aufräumarbeiten nur bei uns auf dem Grundstück zu tun gehabt.
Nach einem wunderschönen, 25-Grad Wochenende, regnete es den ganzen Montag bei Temperaturen um den Gefrierpunkt. Nachts wurde es dann noch etwas kühler und am Dienstag Morgen war wieder alles mit Eis bedekt. Die Kinder hatten Schulfrei und wir gingen erst gegen Mittag ins Büro. Na ja, so geht das … hier sind ein paar Bilder: