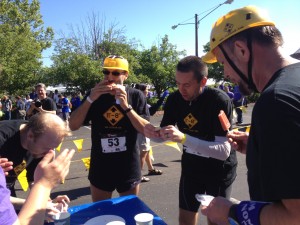 In this year's edition of the Doughman Quadrathlon race, team Overheight When Flashing finished in 5th place! So for the third time in a row, we finished in the top ten of the Doughman. As far as I know, only two other teams have accomplished this: team Dain's Place (hell, they OWN the Doughman) and El Gigante. Now, the Bull City Track Club team clocked their second 1st place in a row, so we'll see next year if they can keep this up.
Here is the menu for this year and who on our team took on which leg: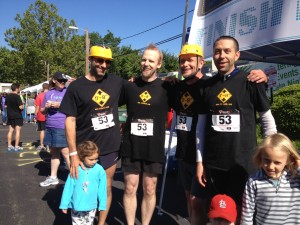 We all did really well with our individual legs, but on the desserts – that's where we smoked 'em! We were the fastest team (1 Min 11 Sec.) on the dessert leg:
The Parlour (Freshpoint purple sweet potato ice cream with honey marshmallow)
LocoPops (vegan strawberry lemonade paleta)
Daisy Cakes (vanilla bean cupcake filled with strawberry-rhubarb compote and topped with ginger buttercream with Freshpoint strawberries and honey)
Monuts (strawberry shortcake donuts)
Each of us had to finish one of these delectable desserts and we then had sprint to the finish together as a team.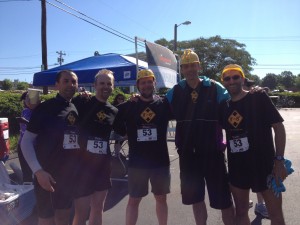 So much fun!