Last Saturday I got up at 2 AM, picked up two fellow Footheads and drove to Winston Salem to get in line for some awesome beer. We got to the Foothills brewery at 4:00 in the AM, and there were already 160 Footheads in line! And still 6 hours to wait for the awesome beer, we all had congregated there to acquire (and enjoy). The occasion was a special bottle release of one of America's best and rarest beers: Foothills' bourbon barrel aged Sexual Chocolate Stout (gold medal at the 2010 American Beer Festival). 1000 bottles of this finest of fine beers had been bottled by the brewery and the Footheads had come from far and wide to claim their four bottles per head.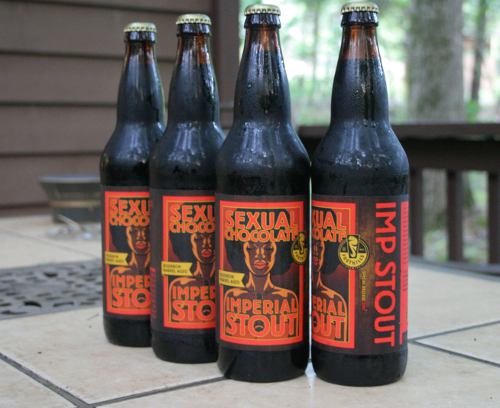 At around five it started to rain. With temperatures in the sixties, the rain did not inflict  serious discomfort upon the Footheads, but we did start to get pretty wet. We found shelter under a tree next to the sidewalk. Some people were well prepared for the long wait. We had brought chairs, but others had brought umbrellas, camping cookers, food and lots of beer. At the front of  the line one group even had a tent. Some were generously sharing some of their cool, rare beers.  Others were even walking around with bottles or growlers from various breweries offering samples. This was a great way to sample some interesting beers – including some that are not even available in North Carolina, like the bottle of Dogfish Head Raison D'Extra one guy was sharing with us.
At 8:00 AM the brewpub opened, and as we went in, we got our wristbands with our numbers. I was #160! We settled down at the bar for a hearty breakfast of beer and sausage biscuits. At 10:00 they started calling up the wristband numbers in groups of 25, who eagerly proceeded to procure their ration of 4 bottles @ $15 a piece.
After we finally got ours, at around 11:30, we had lunch (ostrich burgers) and had our growlers filled. At around noon we drove back to Durham. I had had only one beer (for breakfast) because I was the designated driver, and so, unlike my companions, I was stone-sober when we headed out. I made it back home at 2PM, ready for some beer and a nap. Great experience … let's see if can manage to pull this off again in February for the regular release of the Sexual Chocolate Stout. Cheers!