If you have read my posts over the summer, you'll know that we pretty much spent our summer vacation building a 1200 foot (400 M) pasture fence. Well, Google Earth noticed too, and took some great pictures of our work – from space!
Google hat vor Kurzem die Satelitenphotos von unserer Gegend erneuert und mir ist aufgefallen dass man unseren Weidezaun sehr gut sehen kann, da die Erde um die Pfostenlöcher noch nicht mit Grass bewachsen sind. Man kann auch meinen Pickup unter dem Baum an der Nordseite des Zaunes sehen. Das gab mir die Idee nach Satellitenbildern von anderen Projekten zu suchen.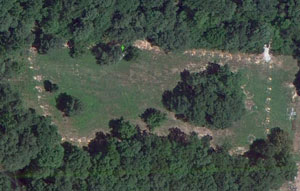 Looking at the highest-resolution version of the picture, I can see the truck parked under the trees at the northern fence line. It looks like the gates and the fence are done, but you can still see the tire tracks of the truck, so we were probably still working on either finishing the fence or on building the shed. When we moved the horses in, I did not leave the truck in the pasture any more, and the grass had grown so much that I doubt the tracks would have still been visible. So that photo must have been taken in early to mid-July.
This got me thinking of other projects I was involved in that are visible on these satellite photos.
In the late 80s, I worked for a construction company in Stuttgart, Germany, and the crew I was part of built the intersection of the Autobahn A14 and state route L1205 in Stuttgart-Vaihingen. I operated a heavy BOMAG compactor, and also sometimes a front loader and I helped the surveyors. There were many Serbs and Croats on our crew and that was during the Bosnian war. So I heard many stories from both sides and saw many pictures of relatives and friends that had been killed or had disappeared. I remember a colleague showing me pictures of his very nice house back home and how he had just finally completed it after working in Germany for many, many years when  it was destroyed by aerial bombardment.
For mehr als 20 Jahren arbeitete ich fur die Strassenbaufirma in Stuttgart die diese Autobahnausfahrt der A14 in Stuttgart Vaihingen baute: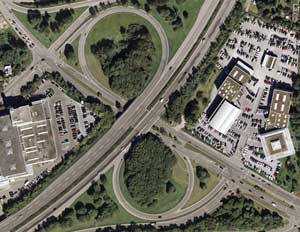 One of my first jobs in the US was also in construction. I spent the summer of 1995 digging footings and tying rebar, building what's now L&D Storage in Morrisville. At the end of that summer, I decided I really needed to go back to school and get a degree in something.
Einer meiner ersten Jobs in the Staaten war auch wieder an Bau. 1995 arbeitete ich fur die Firma die diese Lagergebäude baute: