One of the first things you do when you start a farm is to buy a farm truck. We bought the land a few weeks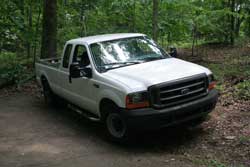 ago and last week we bought a 1999 Ford F250 pickup with a 7.3 liter  Powerstroke Diesel engine that produces 235 horsepower (175 kW) and 500 foot-pounds force (680 N·m) of torque. The odometer shows over 255.500 miles and the transmission was recently replaced with a newer, 100.000-mile unit.  The interior is a bit worn and the tailgate is messed up, but the engine seems to be in great shape – it sounds great and runs like a rhino :)
The last 11 years this truck was a fleet truck – probably for a construction company,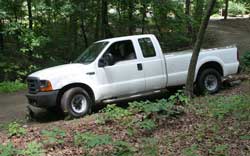 judging from the pieces of gravel and brick still stuck in the tailgate. I found it on Craigslist and bought it from a small used car lot in Fuquay Varina, NC (near Raleigh). I had a Ford mechanic in F/V check it out to make sure there were no red flags and he gave her a "clean bill of health" – so I bought the truck.
This is a very rugged truck and it'll be really useful for hauling fence posts, gravel, logs and brush, and – later – a horse trailer, hay, etc … and of course I'll run this truck on my homebrewed biodiesel, like the Mercedes and the Jetta.