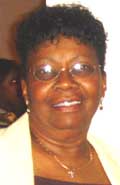 Today was the funeral of my co-worker Shirley, or as West Durham Baptist Church called it, her Homegoing Celebration. The church was full, and the mood was somber, but not depressed. Shirley had touched many people with kindness and generosity, and many of the people who came to bid farewell to her were grateful for having known her.
I liked Shirley a lot, and I'll never forget the delicious eggplant and zucchini she grew and so generously shared with me and other co-workers. She had a real "green thumb" and seemed to thoroughly enjoy gardening. At work, Shirley was our fastest, most experienced data-entry clerk, and it was quite amazing to see her calmly flipping through the pages of the instrument, while the fingers of her right hand were dancing across the computer keyboard.
Shirley died on April 20, 2007, at Duke Medical Center in Durham. She is survived by one son, one brother, two sisters, and one aunt, as well as a host of nieces and nephews, relatives and friends.