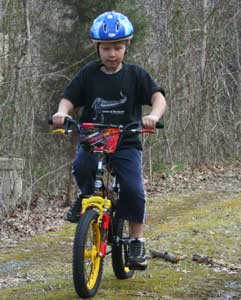 After a few chilly days, temperatures were back to the 60s F (almost 20 °C) today, and so we went out to the Little River Park. Laura went for a run and when she got back I rode the bike trail. Jacob and Julia rode their bikes and played in the playground.
I helped Jacob ride his Thunderbike (as he calls it) and he did great. Finally, I don't have to hold his bike and run with him! Running along with Jacob on his bike used to be half my exercise regimen at the park. Round and round and round …
Today, he got on his bike, I gave him a push, and he rode off … left … right … straight into a tree! He picked his bike back up and got back on – another push … and he was off again – straight into another tree. Soon, thought, he got the hang of it and was cruising around more and more confidently. His main problem was that when he gets distracted by something, like another child, or a dog, he looks at it and rides straight for it on collision course. So I rode in front of him on my bike, yelling at him "look at me! – look at me!" When I got him to focus on me riding in front of him, he stayed on the path and did really well on his Thunderbike.
I had a great ride through the woods on the single-track for almost an hour, scared up some deer, and got a great workout. When I came back, Jacob was cruising around the parking lot "wuuheee!! Look at me!" Good thing there were very few cars left in the parking lot.
[update 2/28: added the picture]