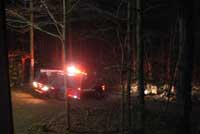 We woke up this morning at 5:30 because Julia was not feeling well, and noticed the woods behind our house were burning. Across an area of about an acre (roughly a third of a hectare) the leaf litter on the ground was burning and the fire was rapidly spreading in a wide swath across the forest. So I called 911 (emergency) and within 5 minutes the first fireman arrived, and now we have the driveway in front and in the back of the house full of firetrucks and about a dozen firemen hosing down smoldering logs.
It looks like the neighbor was burning leaves yesterday and did not fully extinguish the fire. Over night is restarted and spread across their back yard and into ours and another neighbor's. I am glad that I cleaned our foot/bike path from leaves yesterday, because the fire did not get across the path. That prevented it from getting near our wood shed, which is full of … you guessed it … dry fire wood! That might have made this morning even more interesting. As it is, it does not look like any damage was done, but I bet the guy who caused the fire feels pretty stupid!
[UPDATE: added some pictures – see below the fold]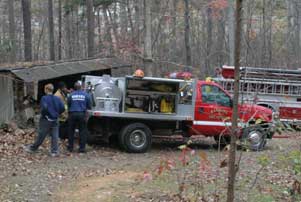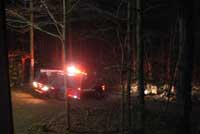 The firemen maneuvered their trucks into our backyard and pumped a LOT of water into the woods before the fire was thoroughly put out. It took about 2 1/2 hours and two pumper trucks!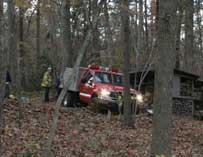 The only property damage was a big bag of dog food in the neighbor's dog pen and the caps of some septic system pipes. The dogs were probably pretty freaked out. In these pictures you can see how the footpath blocked the fire from getting close to our house (and woodshed).