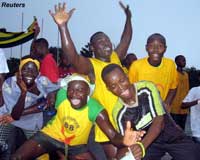 Congratulations to the Togolese soccer team for that coveted ticket to Germany next year! The other qualifiers from Africa are Angola, Côte d'Ivoire, Ghana and Tunisia.
With the exception of Tunisia (1978, 1998, 2002), all African teams are newcomers to the World Cup, which leaves most of Africa's soccer giants like Nigeria, Senegal and Cameroon on the sidelines in Germany next year. The biggest surprise probably was Côte d'Ivoire's squeezing by Cameroon:
The major drama came in Group 3 as Cameroon's Pierre Wome missed an injury-time penalty against Egypt, which would have taken them through to Germany. His miss allowed Cote d'Ivoire, who won 3-1 in Sudan, to qualify for their first-ever finals.
Four first-timers reach FIFA World Cupâ"¢ finals 8 Oct 2005, by FIFAworldcup.com
The team from Togo had been at the top of Group 1 and it needed only a draw against the team from the Congo, so at this point this was not a huge surprise. This is a huge accomplishment for Togo. And maybe the excitement over the World Cup participation of The Hawks will help unify the deeply divided West-African nation as the Togolese gather around TV sets and transistor radios next year to witness their boys face off with some of the giants in World soccer next year.