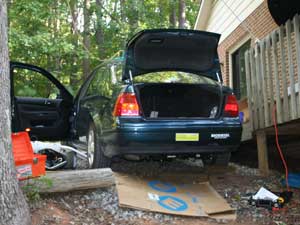 I like my cars with a hitch. I have a small utility trailer that I use to haul garbage, furniture, cinder blocks, firewood, and other stuff that I don't want inside the car or that does not fit inside the car. Over the years I found the trailer-car combo much more efficient than owning a truck. However, it is not easy to find a place that will install a small Class I hitch to a car. "We don't do cars" and "we don't install hitches" is all you hear.
Well, I finally gave up and ordered a hitch for the Jetta from an etailer – eTrailer.com – and installed it myself. It cost me $150 for the parts and 2 hours last Sunday afternoon. Oh – and it gave me a great reason to buy a nice drill, because I had to drill 4 1/2-inch-holes into the body of the Jetta. The whole operation went well, and the hitch works great, now. And I also have a much better understanding of why no one wants to install these hitches.
It was not terribly difficult, although, it would have been better to have the car on a lift and another two hands … I backed the car up to a spot next to our deck, where an old wood beam creates a sturdy step. I blocked the car with the hand brake, cinder blocks and wooden chocks from moving. Then I crawled under it, placed the hitch against the underside using the jack, drilled the holes, and bolted the hitch to the car. Most of this was no problem, except that the fourth hole was exactly above the exhaust, so I had to detach the muffler and push it aside, while drilling the hole.
Yesterday, I installed the wiring for the trailer – not terribly complicated either, but a pain nevertheless. I had never bothered to ground the wiring on the trailer, because the hitch on the Ford provides enough of a ground contact. But the hitch on the Jetta does not, and it took me a while to figure out why the lights worked on the Ford, but not on the Jetta. Duh!