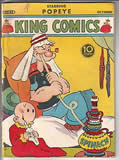 Dana Larsen posted a link to this comic book cover in a comment to my recent post about her story on Alternet. In her story she points out many drug references in the Popeye stories and argues that "Popeye's strength-giving spinach is meant as a clear metaphor for the miraculous powers of marijuana." Here is her comment:
I am Dana Larsen, the author of the article you linked to about Popeye's spinach being a metaphor for marijuana.

I thought your readers might like to see this Popeye cover from October 1939, drawn by Joseph Musial. I only came across this cover recently, after I had written the original article posted on Alternet. The comic cover shows Popeye lounging among pillows in an Arabian sort of tent, smoking out of a hookah labelled "Spinach."

This cover illustration shows that, to at least some people involved in the early formation of the Popeye comics, the spinach/marijuana connection was obvious, and not something they were ashamed of, as King Comics put it prominently on the cover.

http://www.cannabisculture.com/library/images/uploads/3568-KingComicsNo42.jpg
Thanks for the update, Dana. The hookah-smoking-Popeye cover is great. I do not, however, quite get the Arab-Marijuana connection. Maybe this a cultural perception of 1930s Americans? Most Arabs I've met were devout Muslims and quite opposed to any form of drug use.