In September, I went on a 10-day Trip back to Germany to visit family and friends. It had been a couple of years and it was time to go back an re-connect. I flew into Frankfurt via JFK and arrived on a crisp Friday morning. I picked up my rental car and drove to Bensheim to visit my great uncle on his 94th birthday. We had a nice visit, some coffee and cake and then later that evening I drove to Schorndorf, near Stuttgart and stayed with my mom for a weekend. Boy, driving on the Autobahn 8 on a Friday evening is a hell of a "welcome to effing Deutschland!" You're constantly going back and forth between either going 95mph/150kmh or 5mph. Crazy! And then I had to cross Stuttgart during rush hour. Good thing my rental had a GPS and proximity alarms, because roads in that city are clogged an narrow! Eventually, I arrived safely in Schorndorf, just east of Stuttgart.
Schorndorf is a pretty, historic town on river Rems in the heart of Württemberg's wine country. The town has the distinction of being the birthplace of Gottlieb Daimler, who built the first vehicle powered by an internal combustion engine in 1885. The company he founded became what is today Mercedes Benz.
On Sunday I visited friends near Aalen, and on Monday I took the train into Stuttgart to visit old stomping grounds and to have a beer and a Döner with a high school classmate. Stuttgart has a pretty rich history and one that has a bit of a "transportation theme" as it was founded as a breeding stable for the Württemberg family and is now known as the home of two major automobile manufacturers: Mercedes Benz and Porsche. Porsche even uses the crest of Stuttgart in its logo.
One curious thing I had just recently found out about Stuttgart is that the town hall is one of the few places in the world where you can ride the peculiar "Pater Noster" elevator – an elevator that has cabins that continuously run vertically up on one side and down on the other.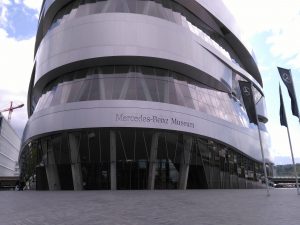 Tuesday, I headed out to visit family in Tübingen, but on the way I stopped in Untertürkheim at the Mercedes Benz Museum. For anyone even slightly interested in the history of the automobile this place is on the bucket list. The architecture is interesting and they roll out the entire history of the automobile (from the company's perspective, of course). They have some of the very first motorized vehicles on display, including – of course – the first car, the first IC-powered boat, the first bus, truck, rail vehicle, engines for various flying machines etcetera. The museum also chronicles the Mercedes racing tradition, which started right at the beginning of the automotive history. Pretty cool.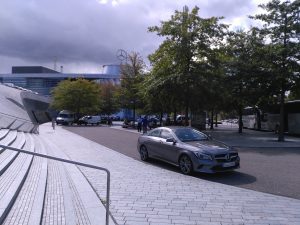 Right next to the museum is the Stammniederlassung – the main dealership for Mercedes Benz – and I just had to take picture of my little rental Benz in front of the hallowed ground :)
Later in the afternoon I drove to Tübingen and spent the evening with family there. That night I slept in an old farm distillery that they had converted into a guest room.
Wednesday, I drove across the Black Forest to Freiburg and then to Müllheim to visit my dad and his wife for a few days.  After 2 days of rain, the weather turned really nice on Friday and so I took the train into Freiburg, my hometown, to visit some of mu former stomping grounds there.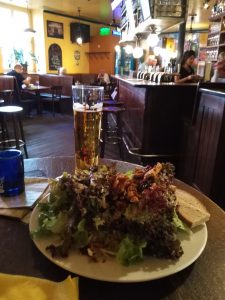 I had lunch at the Schlappen, my old hangout, where I also worked as a cook for while. I had a Halbe of the local brew and a nice salad with chanterelle mushrooms – or Pfifferlinge in German. That bar has changed very little, but I did notice that they renovated the bathrooms and discovered an 11th century latrine there! So now the bar has a historic exhibit as well.
After that nutritious meal, I decided to climb up to the Schloßberg, where the old castle used to be, and where an observation tower now provides a spectacular vista across the city and the Rhine valley to the Vosges mountains in Alsace.
Saturday, I drove 5 hours from Müllheim to Düsseldorf to visit a high school friend who lives there with his wife and daughter. We had a great time, they cooked some barbeque, we had some of Düsseldorf's (not so) famous beer and played pin ball all evening.
Sunday, I headed out early and drove back to Frankfurt airport to drop off my car and check into my hotel. The flight home left on 8 AM Monday, so I had to stay at the airport. In the afternoon I took the train into downtown Frankfurt to see the sights and grab some dinner.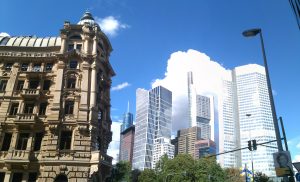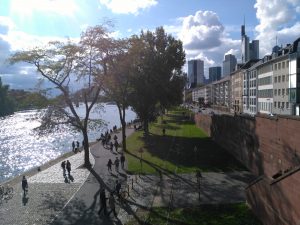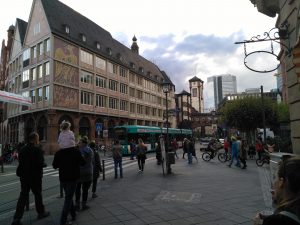 Early Monday morning I hopped back on that Singapore airlines Airbus A380 to JFK, and then Jet Blue back home.