As the leaves are turning and the nights are getting chilly, this October had some real challenges for us. One of those challenges sent me on a short-notice trip back to Germany. While the German fall weather was mostly chilly and overcast, I had one day of nice weather. On  that day I was driving back from Stuttgart to Freiburg, and so I took the scenic route through the the Black Forest. Here are some fall impressions from the roadside in the Black Forest.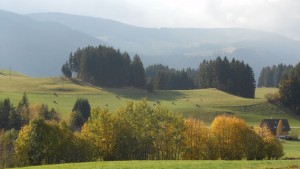 The reason for my trip to Germany was not a fun one, though. I went because my dad had to have surgery and I wanted to be around for support. His surgery went very well and he recovered nicely. However, halfway into my trip, I started running a fever and felt chest pain breathing. So I went to the ER and was diagnosed with pneumonia. Great! They put me on antibiotics and fever suppressants and so I was more or less OK to fly home. I was glad that I had scheduled my connections with plenty layover time, because I had to move really slowly. The slightest exertion would have me panting like a steam engine, and breathing hurt, too. So the trip to the U.S. was exhausting, but I made it home OK.
At the same time, at home, Laura was dealing with another crisis: halfway through the first semester at college, Julia got sick. Laura drove to D.C. to make sure she was getting the right care. And it looked like they had worked it out when I took off to Germany. But a few days later, Julia was doing worse again. Then better. Then worse. The school was trying to help, and she got extensions on her classwork, but she was still more and more falling behind, and that stress did nothing to help her get better. So shortly after I got back (sick, myself), we decided that Laura had to drive back to D.C. and bring Julia home, so we could make sure she gets the care she really needs. So she is at home, again, and recovering. So am I. Both a bit worse for the wear (and Laura, too), but determined to get better. And Jacob? Well, from what he tells us, he, too, had a rough month full of high-school drama. So here is to being done with October!
To finish – here is an impression of how fall is shaping up in our back yard.