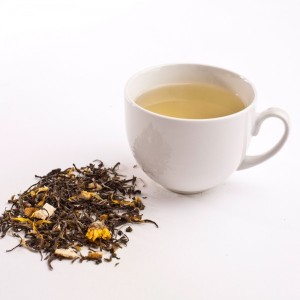 During the month of January, I took some time of from my beloved beer and explored a variety of flavors of tea. The best place for buying tea around here is A Southern Season – a swanky gourmet food store in Chapel Hill. They sell 2oz and 4oz bags of their loose-leaf tea blends and you can't beat that for freshness and flavor. Here are some of the flavors I explored:
Paris Tea: A delicate, vanilla flavored black tea with a touch of bergamot and blackcurrant
Green Dragon Tea – green tea with lemon peel, marigold petals, golden chrysanthemums, passion fruit and lemon flavors
Ginger Lemongrass Tisane – lemongrass, licorice, ginger root, peppermint, lemon peels, black pepper
Evening Chai – Cinnamon chips, cloves, black and red pepper, lemongrass, green cardamon, ashwagantha, ginger root, cinnamon  and clove flavors
Organic Orange Ginger Tulsi – Tulsi herbs (Holy Basil), candied pineapple, candied papaya, apple bits, carrot bits, rose hip petals, sallow thorn berries, orange peels, flavoring, multivitamins
I also really enjoy the Republic of Tea flavors Jasmine Jazz and Moroccan Mint Green Tea.
The various green tea flavors are really my favorite – lightly sweetened with agave sirup I can drink them all day long. The Paris Tea has pretty much replaced my third cup of coffee in the morning. In the evening, the lemongrass tisane or the tulsi tea really wrap up a day quite nicely.