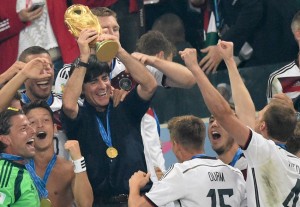 What a great Worldcup! And what a fantastic achievement by Jogi Löw and his Mannschaft!
This moment had been 10 years in the making. In 2004, after the German debacle at Euro, former star-striker Jürgen Klinsmann took over from Rudi Völler as team manager. Klinsmann brought in a new assistant coach, Joachim Löw, who had just been fired from his coaching job at Austria Wien. Together, they rebuilt the team and brought in young, talented but inexperienced players. It took some time to turn this team into champions, but their performance was consistently world class: the reached the Worldcup semifinals in 2006 and 2010, the final at Euro 2008 and the semifinal at Euro 2012. But 2014 the time was right and all the hard work of 10 years was rewarded!
Fantastic performance! Tolle Leistung! WELTMEISTERLICH!
Laura, Agbessi and I watched the Final at my favorite hangout Dain's Place over a few beers. The bar was packed and the crowd was overall mostly Germany-friendly, with a few Argentina supporters among them. When Götze finally scored the crowd cheered! Let's see that again:
(better quality here)
While I did follow the last two Worldcups, I really got into it this year and managed to watch most of the games. This was not an easy tournament for the German team, but I was really impressed with how much their coordination had improved compared to previous tournaments. Great individual talent and great self-confidence, but most importantly you could often see how they knew where the other guys are, what the plan is, what they are doing and how to make this a great play. Yes, they had their rough spots and bad calls, but more often than not, you could see real greatness. And they also showed an amazing physicality – like in the Algeria game and also in  the Final. But in the end it came down to Löw and his tactical genius. Sabella's substitutes did not make much of a dent in the Argentinian game, but Löw's substitutes really in made a big difference. At Minute 31 he sent in Schürrle for the injured Kramer and then in the 88th Minute he launched 23-year-old Götze to replace record scorer Klose. Together, with Schürrle's brilliant pass to Götze, they created one of Germany's most beautiful and most important goals ever!
Photos from the post-game party in Rio
Reddit Match thread with stats and gifs
[Updated link from Wikipedia to FourFourTwo]