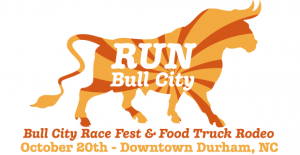 Today I left the house at 6:30 and headed to downtown Durham to for a run, together with 5800 other runners. It was the Bull City Race Fest and I had signed up for the half-marathon – 13.1 miles/21 KM. I knew it was going to be a difficult run for me because last weekend my right knee had started to hurt during a training run. Friday I ran a 3-miler and at the end my knee did hurt a little bit. so was really not sure whether I was going to be able to finish this run. Another problem was the cold temperatures – it was 46 deg. F (7.7 Deg, C) – which is a bit chilly for my bare feet. But I was going to try anyway.
The race was fun and it was an interesting experience to run in a huge crowd like this. The faster runners started in the front and the slower runners in the back. We wound our way through downtown, past Brightleaf, though Trinity Park and Old West Durham to Duke's East Campus, where the five-miler ended. Then the half marathon continued across East and West Campus and various neighborhoods back to the American Tobacco Complex in downtown. I ran at a really slow pace and so the pain only started about halfway, but then it got bad pretty quickly and I was really considering ending the run. But by mile 10 I had gotten used to the pain and I started to relax a bit, which helped. And so on the last couple of miles I even picked up my pace a bit. Of course my time was terrible, but at least I managed to finish the run. And of course my bare feet got quite a few comments during the run and even by the announcers at the finish line.
I rested a bit, got a snack, and then I drove home and iced my knee thoroughly. I really hope that my knee will heal soon if I give it some rest. All in all I had fun, though. The Bull City Race Fest was a bit of circus, but very well organized, the course was pretty and there was lots of cheering from staff and from spectators.