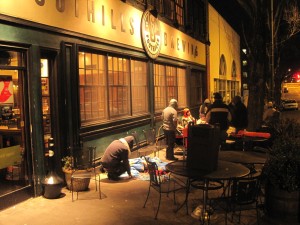 The Great Beer Quest of 2013 was a complete success, despite the freezing temperatures in Winston Salem last night. A bunch of Footheads camped out in 20-degree (-7 Celcius) temperatures for a chance to acquire four bottles of foothills brewery's finest beer – the Sexual Chocolate Stout. This year was my 3rd beer quest, and I was 3rd in line this time!
Friday night, I picked up my camping buddy at 10:00 PM and we headed to Winston Salem. When we got there a little after 11, the release party was still in full swing, and so we got some food and – of course – our first Sexual Chocolate Stout of 2013! Delicious!
Around 1:30 AM, we bundled up and set up camp on the sidewalk, just outside the entrance, using some of the patio furniture there. The temperatures were already well below freezing, but the mood was great and there was plenty of beer flowing. I had a growler of Seeing Double and a 2-liter soda bottle with some leftovers from my 2012 keg of Sexual Chocolate Stout. So all night I was drinking (and sharing) the infamous "Sex on the Shortbus" blend of Seeing Double and Sexual Chocolate.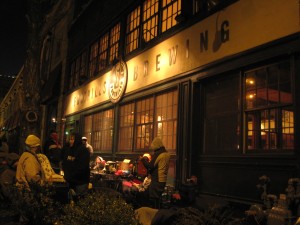 The two police ladies who were in charge of keeping a lid on things were nice but relentless. But really – it was too freakin' cold for much in the way of shenanigans anyway. By around 5AM, the line went down the block and into the parking lot. At 7:00, the Foothills folks came out to give us wristbands with our number in the line. At 8:00 they opened the pub and we got free biscuits they served coffee (and some breakfast beer).
Finally, at 10:00 … the big moment: they called up the first group for their beers and we were finally allowed to purchase each our 4 bombers of the "Precious!" Prosit!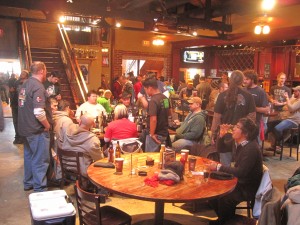 At the release party and over breakfast, there was a lot of beer-sharing going on. The folks at the table next to us had dozens of bottle out for sampling. Apparently there were several avid collectors at that table.