This afternoon was one of those Durham-is-cool moments. When I got off work and I was waiting for Julia, I saw that they were unloading a truckload of vintage Porsches from a truck parked across the street. One of the cars was an original 1950s Type 550 Porsche Spyder – worth about $1 Million!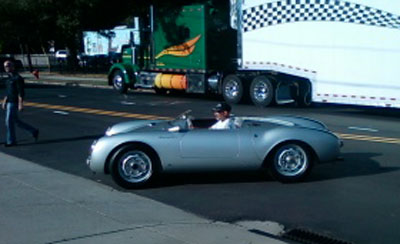 DSA was just out, and so there were a bunch of parents gawking at the cool, old cars. Several times the oldtimers got stuck in the pickup traffic, and the millioin-dollar Spyder was parked in by a minivan for the longest time, with several people circling taking pictures. I don't think they were thrilled about all the attention.
After gawking at the cool, old cars, we went over to Fullsteam brewery,  where I had my growlers filled with fine, locally brewed beer. We ordered a couple of gourmet pizzas from the Pie Pushers truck, and I had a pint and Julia a soda while we waited for the pizza. We met some friends and Julia drew flowers and rainbows and dragons on the bar. Across the street, at Motorco,  a band was practicing for their concert tonight. I saw that one of my favorite local bands, Southern Culture on the Skids, will play at Motorco next Friday. I definiely want to see them!
More photos of the Porsches below …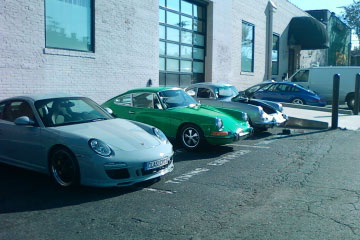 Four generations of Porsche in the parking lot at Brightleaf: a 1954 Porsche 356C (silver with open hood), a very early, very green 911, a 1980's 911 (blue) and  white-ish, newer 911 Classic.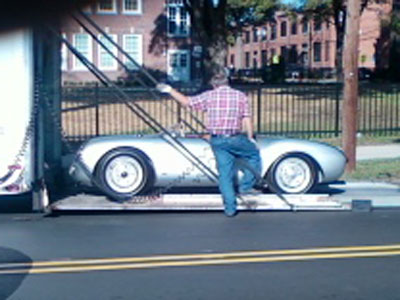 Unloading the 550 Spyder