Yeah – another one of those weeks were "challenging" was just not good enough. At work we have to re-build our main file server and so we're shuffling Terabytes of data around the networks, checking file permissions, backing up data, bla bla bla … Julia had a viola recital today with all the other students of her strings teacher. Next week she auditions for the Durham Sc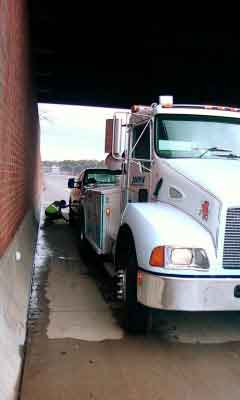 hool of the Arts AND she performs at Duke in the Durham Honors Concert. So she's a bit wigged out. On top of all that, the damn truck broke. I drove into town this morning to pick up some veggie oil, and as I hit the Interstate, the truck starts making weird noises. I fiddle with the transmission and the truck says CLUNK … kachunk kachunk kachunk kachunk kachunk kachunk kachunk … oh shit, I  think , and pull over. Oil is pouring out of the bottom of the truck and something is clunking and rattling like crazy.
So I called Laura, and she got me the phone numbers for some towing companies. Since I've had ample opportunity to watch Big John's Towing at work, I pick them. They sent one of their "smaller" towing trucks, and the guy hooked up my pickup and towed it to my mechanic. We had a a nice chat, and we discussed the towing and recovery business, the cost of fuel and, of course, the business of yanking boxtrucks out from under low railroad trestles.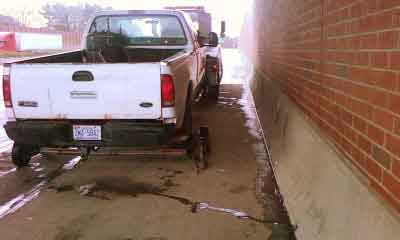 Hooked up and ready to roll on the side of the Interstate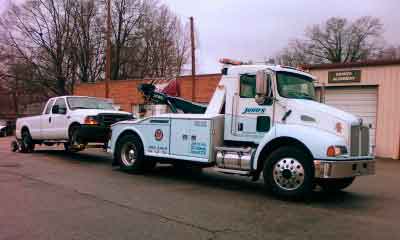 Dropping off my truck at Ingold Tire.