A few weeks ago our bathroom flooded and the cheap, beige linoleum flooring was completely destroyed. So we ripped out the linoleum and we ended up ripping out the vanity and the toilet as well. We got new bamboo flooring and a new dual-flush toilet from Costco, and a great bamboo vanity from bathandgranite4less.com. Last week we got a faucet, towel hangers and a light from Home Depot and we put it all together.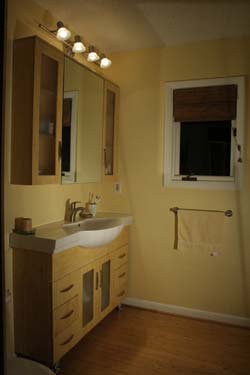 On Saturday I spent 3 hours on the threshold and some smaller wood working stuff and now it's finished!
Except for the biodiesel production, this was so far our biggest DIY project in the new house. We really like the way it turned out. The bamboo looks great and seems like a really sturdy material. And it's a fast-growing, low-impact resource.This is also a bit of an experiment – we'll see how the bamboo flooring holds up in the bathroom. Then we'll decide whether to install more bamboo around the house.
(more pictures below)