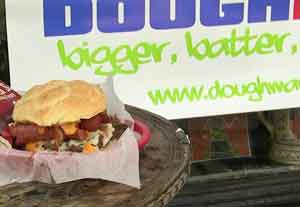 Last Saturday I participated in the second edition of the Doughman – but not in the competition this time around. Instead I helped document the World's premier Quadrathlon  as one of four volunteer videographers. Due to our trip to Togo I was a bit late with the registration, and by the time I got serous about registration all 50 team slots were filled.
This year the Doughman had quite the media circus going on because of Adam Richman's team and their camera crew. Adam is the host of the Travel Channel's Man v. Food show, and his participation in the Doughman will be covered in the upcoming episode of Man v Food. Suffice it to say that Adam did not make it through the event unscathed, but we're still hoping he'll give Durham a "thumbs up" anyway.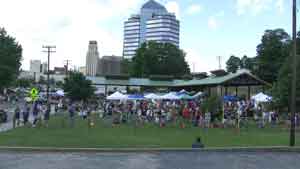 Considering that the even had grown from 15 teams to 51 this year, I thought it was well planned and executed. The athletes seemed to have a great time and the food – so I heard – was really delicious! I spent a lot of time at Dain's Place (imagine that!) because I was assigned to cover this fine culinary establishment which was stage 3 of the race. I got some excellent shots of Gloria making 51 Chilly-cheese-burger-dogs.