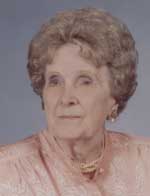 Laura's grandmother Peg was born on December 6, 1908 in Trevor, Wisconsin – the same year Bette Davis was born (April 5) and Henry Ford produced his first Model T automobile. She was the daughter of Wayne and Lillian (Frank) Bush. Peg died on December 17, 2007 peacefully in her sleep at a retirement home in Charlotte, Michigan. She is survived by her daughter, Dolores Wendell of Charlotte; daughter-in-law, Genie Michel; grandchildren, David Wendell, John Wendell, Carol Kostyshyn, Paul Wendell, Peter Wendell and Laura Wendell; 3 great grandchildren, Mira Kostyshyn, Julia and Jacob Henn. She was preceded in death by her husband, Julius in 1991 and son Philip in 1998.
Peg is remembered for her kindness and generosity, and her love of the good things in life. She was very active in her community as a member of her church and as an officer of clubs and community organizations in Charlotte, and she received community service awards for her work. To her family, Peg's and Julius' house was a place of stability and comfort, where the door was always open. Although she will be missed, we're grateful for her long, rich life and for the moments we shared with her.
 The funeral was on December 27, and so we drove up to Charlotte on the 25th and came back on the 28th. We rented a big pickup truck to drive up there, and in Michigan we rented a U-Haul trailer to move the rest of grandma's furniture to North Carolina. The furniture had been in storage, and so this was a good opportunity to finally get this done as well.