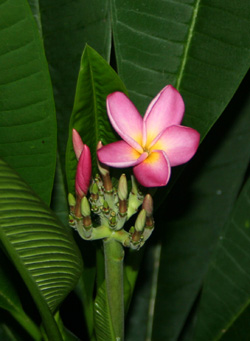 We brought this plumeria back from Hawai'i in 2004 and planted the stem in a pot. For a while nothing happened. Then it started growing leaves. This spring Laura transferred the plant to a larger pot and it started growing more leaves.
When we moved, we gave the plumeria a nice, sunny spot on the deck. The plant loved the hot weather this summer and grew like crazy. Last week we noticed the flower buds, and tonight was the night! The plumeria's first flower opened. Pretty amazing – it took only 10 hours, and in the last few hours you could almost watch it unfurl its delicate petals.
Click on the picture to see the gallery.