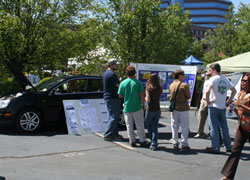 Yesterday was the Durham Earth Day Celebration and it was a gorgeous, sunny and very busy day. We had a Piedmont Biofiuels/BullCity Biodiesel booth at the event and Chris brought his brand-new, jet-black 2006 Jetta TDI over for show-and-tell. Interest in biodiesel and alternative fuels in general was really strong, and our volunteers Jeff, Gary, and Chris were busy most of the day. We had a wide range of discussions and conversations, from the basics like "what's the difference between diesel and gasoline engines?" to advanced topics like how Blutec will impact biodiesel.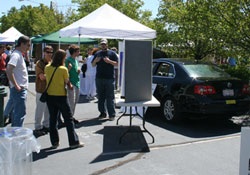 Local media were also interested in our message. Kimberley Pierce of WNCU did a 3-Minute, live interview with Jeff and I. WNCU is a community-funded radio station based at North Carolina Central University. The folks from the Duke University Center for Documentary Studies interviewed us, too. It was also a great day for networking, and in several conversations I brought up the idea of using pure biodiesel in the Durham School buses to reduce the exposure of our school kids to toxic exhaust fumes.
There was some debate among the biodieselers about showing off a stock, off-the-shelf car. Some argued that showing off a cool veggie car would attract more attention I thought it was an important point to demonstrate that a nice-looking, affordable car with no modifications whatsoever, can also be an alternative fuel vehicle, that burns a locally produced, mostly carbon neutral, relatively clean fuel.
An SVO-converted veggie car does attract more attention, and it's very cool from a geek perspective. But I think the media already focus too much on this tiny minority of biofuel die hards, and that makes it look to the general public like they have to invest in expensive, complicated conversion kits in order to use biofuels. When you talk to folks, every other question is "how do you convert the engine?" when, of course, there is no conversion required at all for using biodiesel. And the focus on SVO conversions also tends to associate biofuels with funky-looking, 1970s Mercedes' or VWs. Most people prefer a more modern ride. So showing off a comfortable, nice looking state-of-the art automobile really made a difference, I think.