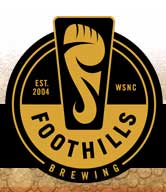 Last week I undertook a trip to Charlotte, NC, which turned out to be completely for naught. Yet, on my way back to Durham, I took a detour via Winston Salem to have lunch at the Foothills brewery. This little brewery puts out some remarkable brews, and I was quite curious to visit the brewpub to see for myself the place where they produce these fabulous beverages.
Located on Fourth Street in downtown Winston Salem, the brewpub is nice, with a large bar and modern, open spaces. Nothing fancy, but appealing and straight-forward. The menu is also straight-forward and quite beer-oriented. I had "fish and chips" – and it was really good – and a couple pints of their stout. Very tasty, indeed.
Part of my mission was to refill several growlers for a couple of friends. As I am typing this, I am enjoying a glass of Foothill's Seeing Double IPA – which is my favorite. It's a very hoppy strong beer – a prime example of a ridiculously overhopped American ale :) with serious kick at 9.5 percent Alcohol. Somehow they manage to make this into an immensely drinkable beer, with a really smooth mouthfeel and pronounced citrus notes.
The thing about Foothills is that they don't bottle their beers. So you can only get it on tap at some bars around the state. If you want to enjoy the beers at home, you have to get a growler, which is a half-gallon (2 Liter) bottle that is filled at the tap. The growlers are not pressureized, so you cannot keep them for more than a few days. Once you open one, you better finish it up, or the stuff goes flat. So far, that has not caused me any particular problems.
So when I left the brewery with my five growlers, and headed back to Durham, I felt again at peace with the world, despite the futility of my trip to Charlotte.