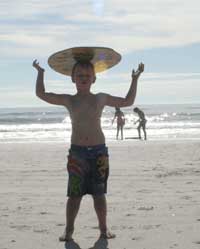 No -this is not Southern Florida or South Africa – this is Atlantic Beach, NC in January! Looking at the weather report for the Martin Luther King holiday weekend, our friend Susan decided to head out to her beach house for the weekend. When she asked if we wanted to come along … well, we had to carefully consider our plans for the weekend … for 2 seconds.
We drove out to Atlantic Beach on Saturday evening after Laura got off work. Sunday morning was great – it was sunny and warm (mid-70s F. /low 20s C), the kids were playing in the surf (!) and Dolphins were cruising up and down the beach (LOTS of dolphins). The water was freaking cold – 55F/12C – but the kids did not care! I did – I tried it and it was freezing!! I wanted to see if I could get close to one of those dolphins … duh! I spent about 5 Minutes in the water and Laura says I was purple when I came out.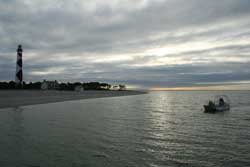 In the afternoon, we took a boat (see right) to the Cape Lookout lighthouse and went for a walk along the beach. It was gorgeous – a gentle breeze was blowing in from the ocean and there were hardly any people around. But lots of Dolphins were hunting right off the beach. Once in a while they'd get a baitball going and the water would start boiling, and the pelicans would start dive-bombing, while the dolphins were feeding on the fish.
On the way back, the skipper picked up a family on Shackleford Banks, where they had been hanging out with the wild mustangs there. Sometime in the spring we should go there camping over night. That would be a great adventure and it'd be so cool to watch the mustangs.
Today, we hung out in the morning, and cleaned the house. Then we went to the Pine Knoll Shores Aquarium (free admission today!). We spent a couple of hours looking at the "fishies," petted the horseshoe crabs, and gawked at the sharks in the big tank. Around 3 PM we headed back home. What a great weekend!