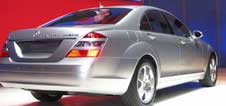 More proof that saving the planet can be quite fun: the new Mercedes concept car "Bluetec Hybrid" is based on the new S-Class, and, as it is a diesel, it should run just fine on biodiesel.
A number of European automakers came to the hybrid party at the Frankfurt auto show, simultaneously arguing that diesel powertrains are a more efficient answer to fuel economy concerns.

DaimlerChrysler AG brought the two technologies together in a concept car called the Bluetec Hybrid. Claimed to be the cleanest diesel in the world, the "mild hybrid" S-Class-based concept marries a 3.5 liter V-6 diesel with an electric motor for stop-start use.

Mercedes says the Bluetec design is being tested in fleets and will meet stringent California emissions standards that have kept manufacturers from selling diesels in that state.

Diesel versus hybrid battle rages in Frankfurt – 09/16/05 – John McCormick / Autos Insider
In Europe a diesel/electric luxury car on biodiesel should work fine, but in the US this concept may cause some heads to implode.
Update: BlueTec is a technology used by Mercedes to reduce emissions of fossil-diesel engines. The German Mercedes-Benz website has a marketing piece on BlueTec. They inject ammonia into the hot exhaust to neutralize the carbon-oxides inside the catalytic converter. This should work with biodiesel, too.