This is the newest photo of Pluto's little buddy Charon, shot by New Horizon and published today by NASA.
Remarkable new details of Pluto's largest moon Charon are revealed in this image from New Horizons' Long Range Reconnaissance Imager (LORRI), taken late on July 13, 2015 from a distance of 289,000 miles  (466,000 kilometers).

A swath of cliffs and troughs stretches about 600 miles (1,000 kilometers) from left to right, suggesting widespread fracturing of Charon's crust, likely a result of internal processes. At upper right, along the moon's curving edge, is a canyon estimated to be 4 to 6 miles (7 to 9 kilometers) deep.

Mission scientists are surprised by the apparent lack of craters on Charon. South of the moon's equator, at the bottom of this image, terrain is lit by the slanting rays of the sun, creating shadows that make it easier to distinguish topography. Even here, however, relatively few craters are visible, indicating a relatively young surface that has been reshaped by geologic activity.
NASA also published today the first detail shots of Pluto: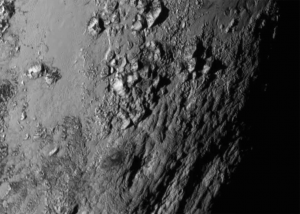 New close-up images of a region near Pluto's equator reveal a giant surprise: a range of youthful mountains rising as high as 11,000 feet (3,500 meters) above the surface of the icy body.

The mountains likely formed no more than 100 million years ago — mere youngsters relative to the 4.56-billion-year age of the solar system — and may still be in the process of building, says Geology, Geophysics and Imaging (GGI) team leader Jeff Moore of NASA's Ames Research Center in Moffett Field, California.. That suggests the close-up region, which covers less than one percent of Pluto's surface, may still be geologically active today.
These are really exciting discoveries!