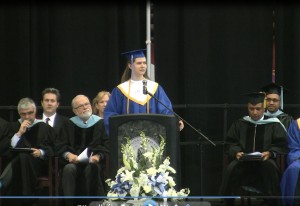 Today was Julia's High School graduation. She was valedictorian of her class of 70 graduates from Middle College High School, so she got to do a speech at graduation. Her class got almost 1.5 million in scholarship money for college! We're super proud of her!! In August, she will start studying at American University in Washington, DC.
[UPDATE: video below]
[UPDATE 2: added text of her speech]
Here is the video of Julia's graduation:

Julia's Valedictorian speech:
 A Heartfelt Thank You Card

Middle College has given me the opportunity to grow in ways I couldn't have imagined a few years ago. For this, I would like to take brief moment to reflect on the decision that led me here, and to thank the MCHS faculty and staff, for their dedication and for the wonderful opportunities that they give us each day.  In fact, you are about to hear a heartfelt thank you card from me and my classmates.

On this great day of looking forward, it may be fitting to briefly reflect a little on the past. The first time my mom told me about Middle College I completely dismissed the thought of going here. Leave the growing circle friends and the comfort zone I had at my previous traditional high school … to go to a community college. That was just crazy talk. But there were these three troublesome little words that just kept nagging me: free…college…credit. Soon as I wound my way through students meandering through the crowded hallways; as I poured over worksheet after worksheet; as I sat through yet another pep rally, I could not help but feel that I needed a different setting to grow. That's right about when I started writing my application.

This is a story that virtually every Middle College High School student shares. After spending two years at this truly wonderful place of learning, I have learned that Middle College is much more than a place to get free college credit—although boasting to people about the 40 or so college credit hours I have earned, never really gets old—especially for mom and dad. Middle College is a place where we have come to be challenged by a more collegiate environment; a place where students are encouraged to become creative independent thinkers, and are treated as responsible young adults.

I have never been part of an educational environment as welcoming and as empowering as the one Middle College provides, and I think that this is testament to the hard work everyone has put into this program. I know that I speak for all of my classmates when I say that we appreciate all who have made this Middle College such a success.

To begin with, I would like to thank all of our wonderful supportive family members who, after helping my fellow Mavericks face the trials of papers, hormones, and who knows what else, have stood through thick and thin…. And we applaud our classmates who have achieved so much, though they may not have had so much support.

Next, let's talk about the wonderful staff here at Middle College. Between teaching us, guiding us to our next step in life, supporting us when we are struggling, reminding us to register for classes, hounding us about textbooks, or performing the mysterious behind the scenes work necessary to run a quality school, you all have, through your own sweat, tears and regular e-mails made this school a truly spectacular place to be!

Finally, I would like to thank my fellow students. I feel honored to have had the opportunity to be a part of the wonderful community each of you has helped to create. It is my fondest hope that whatever the future may hold for us, each of you will continue to be the thriving, independent thinkers you are today. In other words: Be a life-long Maverick!

In closing, I would like to share with you a few words by Mark Twain that capture your spirit as a MCHS Maverick:

"Twenty years from now you will be more disappointed by the things that you didn't do than by the ones you did do. So throw off the bowlines. Sail away from the safe harbor. Catch the trade winds in your sails. Explore. Dream. Discover."

Thank you Middle College, and good luck class of 2015.
AUF DEUTSCH
Julia's Ansprache als Klassenerste ihres Jahrgangs:
Eine herzliche Dankeschön-Karte
Middle College hat mir die Möglichkeit gegeben in einer Weise zu wachsen wie ich mir das vor paar Jahren nicht vorstellen konnte. Ich möchte eiene Moment über die Entscheidung sprechen, die mich hierher geführt hat, und mich bei den MCHS Lehrern und Mitarbeitern für ihre Mühe bedanken, und für die wunderbaren Möglichkeiten, die sie uns jeden Tag geben. Hier ist eine herzliches Dankeschön von mir und meine Klassenkameraden.

An diesem großen Tag der Zukunftsperpektiven mag es passend sein, kurz ein wenig über die Vergangenheit zu reflektieren. Als mir meine Mutter das erste Mal von MCHS erzählte, verwarf den Gedanken hier her zu kommen. Meinen Frundeskreis und die Geborgenheit meiner traditionellen High School zu verlassen um an einem um an einem Community College zu studieren? Das war einfach eine verrückte Idee! Aber dann gab es doch diese drei kleinen Worte, die mich immer wieder beschäftigten: kostenfreie … College … Leistungspunkte. Aber als ich mich dann wieder Tag für Tag durch überfüllte Fluren drängn musste; mich durch ein Arbeitsblatt nach dem anderen durcharbeitete; und noch eine Motivationsversammlung durchstehen musste, hatte ich dann doch das Gefühl, dass mir ein neues Umfeld gut tun würde. Das war der Zeitpunkt als ich begann meine Bewerbung für MCHS zu schreiben.


Dies ist eine Geschichte, mit der sich fast jeder Middle College High School Schüler identifizieren kann. Nach zwei Jahren an diesem wunderbaren Ort des Lernens, habe ich gelernt, dass Middle College viel mehr ist als ein Ort, kostenfreie College Leistungspunkte zu sammeln – auch wenn es nie langweilig wird mit den zirka 40 Leistungspunkten anzugeben, die ich verdient habe. Besonders natürlich für Mama und Papa.  Middle College gab uns ein akademisches Umfeld, wo kreatives unabhängiges Denken gefordert war, und wo wir als verantwortungsbewusste jungen Erwachsenen behandelt wurden.

Ich war noch nie in einem pädagogischen Umfeld das so freundlich und so beflügelnd war wie MCHS und ich denke, dass dies ist ein Zeugnis ist für die intensive Arbeit aller an diesem Programm beteiligten. Ich weiß, dass ich für alle meine Klassenkameraden spreche, wenn ich sage, dass wir alle den Aufwand zu scätzen wissen den Sie gemacht haben um MCHS erfolgreich zu machen.

Zuallererst, möchte ich mich bei allen allen unseren wunderbare unterstützenden Familienmitgliedern bedanken, die uns Mavericks mit den Herausforderungen von Semesterarbeiten sowie von Hormonen beiseite standen und uns durch Dick und Dünn unterstützt haben …. Und wir spenden unseren Klassenkameraden Beifall, die all dies vielleicht mit weniger Unterstützung erreicht haben als Andere.


Als Nächstes lassen Sie uns über die wunderbaren Mitarbeiter hier bei MCHS spechen. Sie unterrichteten uns und unterstützen uns auf dem Weg zu einem neuen Lebensabschnitt. Sie halfen uns durch Engpässe und erinnerten uns daran uns für die richtigen Kurse einzutragen. Sie rannten uns wegen der Bücher hinterher und waren für all die geheimnisvolle Arbeit hinter den Kulissen zuständig die diese Schule so erfolgreich macht. Sie alle haben , durch Ihren Schweiß, Tränen und durch regelmäßige E-Mails diese Schule ein wirklich spektakulären Ort gemacht!

Letzendlich möchte ich auch meinen Kommilitonen danken. Ich fühle mich geehrt, ein Teil dieser wunderbaren Gemeinschaft gewesen zu sein, zu der jeder von euch seinen Teil beigetragen hat. Was auch immer die Zukunft uns bringt, ich hoffe sehr dass jeder von Ihnen auch weiterhin der blühende, unabhängige Denker breibt der Sie heute sind. Mit anderen Worten: Bleiben Sie ein Leben lang ein Maverick!

Ich mit ein paar Worten von Mark Twain abschließen, die Ihren Geist als MCHS Maverick erfassen:

"In zwanzig Jahren werden Sie die Dinge, die Sie nicht taten mehr bereuen als die Dinge die sie taten. So werfen Sie die Leinen los. Segeln Sie weg von dem sicheren Hafen. Fangen Sie die Passatwinde in Ihren Segeln. Erforschen Sie. Träumen Sie. Entdecken Sie. "

Vielen Dank Middle College, und alles Gute für den Jahrgang 2015.