Yesterday I went on a bit  about how I think how cool Durham is. Little did I know that Durham is in fact Apple-cool. World-series level. Two fine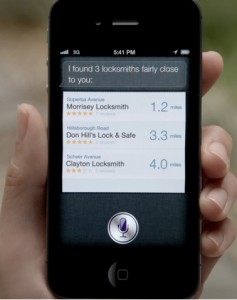 Durham business establishments make a cameo appearance in the World-series Apple ad for the new jesus-phone. The ad features a new voice assistant called Siri and the lady tells her jesus phone that she's locked out and the phone presents her with three nearby locksmiths, two of which are in Durham. I know the folks at Don Hill's Lock and Safe, because they make all our registered keys at work, and they are Durham local business bedrock. They must be lovin' all the attention :)
The neighborhood email lists are abuzz about this and there is plenty speculation how this cameo appearance came about. Over at the Upstager, they are trying to triangulate the location of the lady in the ad:
we can use the indicated distances (3.3 miles from Don Hill's and 4.0 from Clayton Locksmith) to do a rough plotting of its two possible locations:

• just south of the Durham Freeway near the Bacon Street side of the Durham Tech campus,
• or just east of northern Sherwood Park and south of Cheek Road, possibly on Castlebay Road or Andover Drive.
However, Google Maps says that the two businesses are 13 miles apart, so I don't see how you can find a location that's 3.3 miles from one and 4 miles from the other. But be that as it may … Durham is Siriously cool!