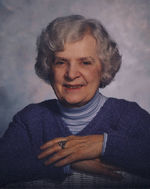 Last Saturday, October 8, at 11:30 PM Laura's mom, Dolores, died at Eaton Community Hospice in Charlotte, MI. She had been in the hospital, then in rehab for a broken hip, when a CT scan revealed that she had advanced pancreatic cancer. When we found out, Laura managed to get her mom into hospice fairly quickly, as the cancer was too advanced for treatment. Last Wednesday she got a place in hospice and John helped her move. On Thursday the nurse called us and strongly suggested we come to see Dolores. So on Friday we drove 14 hours to Michigan, with the children, to see Dolores. We got there around 8:00 PM and went to see her right away. She was awake and recognized Laura and the kids and Laura's brothers. Later, she went to sleep, and I took the kids to the hotel. Laura stayed with her mom until late that night. Dolores never came back on Saturday, and she passed away Saturday night.
Dolores was a kind soul and a wonderful person. Her friends and family miss her very much. But at least she passed away peacefully and surrounded by her children, who came to see her from Hawai'i, Arizona, Virginia and (us) from North Carolina. The local funeral home was very helpful and got all the organizational things done, as well as the cremation, and we did the funeral on Tuesday, while everyone was still in town. Laura's brother Paul officiated the ceremony and he did a great job. It was very moving, and then we went to put her ashes to rest at the cemetery in Olivet, next to her parents and her brother.
Dolores Michel, 82, of Charlotte, MI died October 8, 2011. Ms. Michel was born in Charlotte, the daughter of Julius and Peg (Bush) Michel. Ms. Michel is survived by her children; David (Ann) Wendell, John (Victoria) Wendell, Carol Kostyshyn, Paul (Lisa) Wendell, Peter (Jo) Wendell and Laura (Jürgen) Wendell; her grandchildren, Mira Kostyshyn, Julia Wendell Henn and Jacob Wendell Henn; and sister-in-law Eugenia Michel. She was preceded in death by her brother, Philip Michel. Ms. Michel was a member of Jobs Daughters. She received a Bachelor of Arts degree in Mathematics from Central Michigan University. She was retired from teaching and was a computer programmer for General Mills.