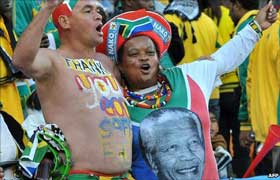 In his column on the BBC website, Zimbabwean filmmaker and columnist Farai Sevenzo sums up his experience at the Worldcup in South Africa and what this event meant for South Africa:
For the first time, the South Africans kept telling me, all South Africans have come together, people are conversing across colour divisions, we are incredibly proud of what we have achieved.

Everyone, it seems, had raised their game – from the police to the broadcasters to the boys and girls from advertising.

"Feel it," said the state broadcaster, "it is here."

And feel it we did.
Congratulations and Thank You to South Africa for a successful and enthusiastic event. When Germany hosted the 2006 Worldcup, it felt good to to hear people from all over the world say they felt welcome in Germany. I think this shared experience helped pull the country together and grow a new, self confident, peaceful patriotism that promotes peace and understanding internally AND externally.
I hope that the shared experience of hosting the 2010 Worldcup will have similar long-term effects on South Africa. In such a fractured country it may really make a big difference to boost national self confidence by hosting a big, international event. Clearly, this won't solve any of the country's pressing problems, but I hope that such a shared experience may help people to start taking down some barriers (and razor wire) and help strengthen a national identity. We will see.
Personally, this was the best Worldcup I remember watching – just looking at the quality of football played. Not all was glorious, but the good stuff was fantastic. Despite the loss, I think that the Germany – Spain game was the best match I ever watched. And most Germany matches were quite awesome to watch (not that I am biased, or anything). That team has a great future!
My second-favorite team – Ghana – also played really well and they were just unlucky in the Uruguay game. Man – what drama.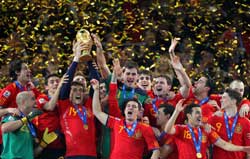 There was so much drama in this Worldcup – game-drama – crazy goals, last-second-goals, dramatic referee decisions, lots of emotion, and a well-deserving, first-time champion.
Congratulations, España! Wonderful performance – beautiful football.
See you in 2 years …