The German start-up car maker Loremo says it is still on track with production in 2010 and they announced a couple of weeks ago that they will offer the Loremo in three flavors: Electric (EV), Gasoline (GT) and Diesel (LS).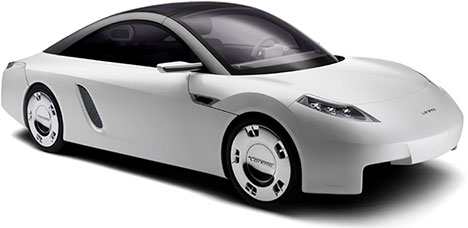 While I understand the idea of adding diversity to their product lineup, I hope they won't dilute their original principles of simplicity and economy. They have already beefed up the power of the Diesel engine, and turned the 140 mpg car into a 120 mpg car. What next? Add Bluetooth and double the price tag? Please keep  it simple and inexpensive!
Check out the Loremo YouTube Channel!
More details below the fold …
From the Press release:
The GT (Gasoline):
For the sportive Loremo GT we have now chosen a powerful 2-cylinder Otto engine of a German manufacturer. It will have 850 ccm and intake-manifold fuel injection. It is going to go into production this year. and will deliver 45 kW in its basic configuration.
The EV:
The Loremo EV has undertaken first small test runs and has been issued with a roadworthyness certificate. Further buresucratic obstacles have been removed so that the first test runs on the public highway can be done in March.
The LS (Diesel):
The drive train option that once made the Loremo the 140 mpg car and is in fact the 120 mpg car today, we also have found an engine and have entered a development partnership for its development. It is going to be a 2-cylinder engine with 700 ccm and is manufactured by an established German maker. Another partner has already made modifications to the combustion chamber and has conducted promising tests on the test rig regarding turbo charging, inter-cooling and exhaust gas recycling.

The efficiency is still subject to a tolerance, but was at times below 200g/kWh which is about 40%. The power was significantly increased from the original engine without increasing the mechanical load. This leads to an increased engine life which could easily outlive the car now.

The CAD concept for the conversion to a common rail design is complete and the first common rail prototypes will be built this year. The big, but manageable challenge in the series development will be the conditonig to meet Euro 5 and later Euro 6 exhaust standards.