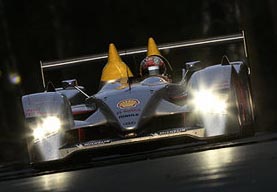 As of last weekend TDI does not only stand for outstanding fuel economy but also for "superior racing platform." The Audi R10 TDI of Joest Racing made history with the first-ever win of a diesel-powered race car at the 24-hours of LeMans – one of the toughest and most prestigious races in motor sports.
The fans on the race track and a worldwide audience of millions of TV viewers saw an impressive demonstration of Audi TDI Power and the performance of modern diesel engines. The brace of Audi R10 TDI cars, powered by a 650 hp V12 TDI engine, were by far the fastest and most economical cars. During the entire race, one of the new diesel sportscars from Ingolstadt was at the head of the field. Le Mans record winner Tom Kristensen drove the fastest lap of the race, setting a 3m 31.211s time, and he was the first driver at the wheel of an LM P1 sportscar to cover 16 laps with one fuel load. Completing 380 laps, Audi also set a new distance record.

In the race, the advantage in fuel consumption of the Audi TDI Power was visible for the spectators too: on average, the Audi drivers only pitted every 14 laps to refuel 90 litres of Shell V-Power Diesel. The opposition, who relies on petrol engines, had to pit considerably more often. The fans were also impressed just how quiet an environmentally friendly 650-hp sportscar can be.
Joest Racing press release, 18/06/06
I wonder if these diesel racers can run on biodiesel??!