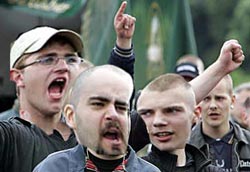 The "Master Race" is at it again in Germany. The brown shirts are marching, the nazi thugs are beating up innocent people. They are not particularly popular, but they are gaining ground, and they are making headlines.
The Interior Minister Schäuble presented today the annual "State of the Constitution" report (Verfassungsschutzbericht (de)) which documents a 27 percent increase in right-wing crime and violence in Germany to a total of 15,360 incidents last year.
One big debate is about whether to declare "no-go zones" for the worldcup tourists. The government is insisting that it is safe for anyone to go anywhere in Germany. Others disagree, like the former spokesman of the former red-green (center-left) German goverment:
There are towns in [the state of] Brandenburg that I would not recommend to people with other [not white] skin colour. They might not leave alive.
Zu Gast bei Freunden? , Sueddeutsche Zeitung, 21.05.2006
This statement is supported by several recent horrific cases of racist violence:
These incidents sparked intense, and often awkward debates on the issue of racism in Germany, especially in the eastern states. The attack in Potsdam prompted Schäuble to issue a comment to the effect of "white people get beaten up, too …" which prompted quite an uproar and eventually he issued a mea culpa.
With the world cup just around the corner, this is not the kind of publicity the marketing folks are looking for. Yet, the right-wing extremists are particularly interested in using the world cup as a platform to market their brand of "German hospitality." This puts German authorities in an awkward spot. How much freedom of speech can Germany afford to grant the "master race?" Should they forbid nationalist and white-supremacist events and pretend that all is well? Or should they allow the world to catch a glimpse of the smelly underbelly of German "Stammtisch Kultur" – sticky steins and stale world views, and all that?